Content_GLO_HTS_BlogTitle
Asset Publisher
FIVE CONTINGENT WORKFORCE THEMES FROM 2019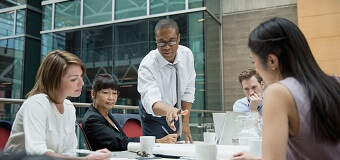 Please note this article has been adapted from the original article published on ATC Hub – Contingent Workforce November 2019
I recently attended ATC's annual Contingent Workforce Workshop in Melbourne and this has given me the opportunity to reflect on what has been happening in this important area of talent management over the last year and what this could mean for 2020.
Contingent labour shows no sign of slowing in the Australian economy but what do Australia's procurement, talent and HR leaders think about their use of contingent workers and what would they like to do better?
Here are the key themes I've noticed during 2019:
Statement of Work (SoW)
Engagement of workers through Statement of Work or other services contracts continues to be a challenge for some. Organisations will need to change their approach to be more strategic with the resources they engage with to create that advantage.
One employer we met with had three times as many external workers with building and systems access than they actually had working, and no way of knowing who should and shouldn't have access. Many of these people were engaged through SoWs with little visibility of who was doing the work and when.
Another client had a culture of using SoW to engage time-based IT contractors purely as a way to circumvent scrutiny, resulting in far more spend in this area than on regular contractors.
We are already incorporating SoW spend in a number of our MSPs and expect this to accelerate in 2020.
Technology
There is a big driving force behind technology, this brings more opportunities for innovation but also comes with it challenges.
Currently there are three main VMS technology platforms operating in Australia; SAP Fieldglass, Hays 3SS and Beeline.
But in the past year I've seen Coupa expand its offering, with their services in SoW and services management.
Salesforce modules are being used to provide a contingent labour technology solution. Whether these newer entrants challenge the main three will be interesting to see over the next couple of years – and as with all technology, the only consistent is change.
Managed Service Programs (MSP)
According to Staffing Industry Analysts' research, 32% of Managed Service Programs are awarded to replace an existing MSP with a new supplier. The remaining 68% are awarding an MSP for the first time.
We continue to see a lot of activity in both areas in the Australian market, with a strong interest from first time users and continual turnover of existing programs.
In addition, we have seen a couple of major Australian organisations in-source their MSPs rather than using an external provider. There have been a few recruitment agencies trying to move into the MSP area and at least one painful exit.
Diversity
The findings from our recent Diversity & Inclusion report showed promising progress but also highlighted the fact that much more still needs to be done to achieve genuine workplace diversity and inclusion.
The number of buyers looking for diversity capability from their suppliers of contractors and temporary workers is on the increase.
I am on the Board of the Australian Network on Disability and it was great to see the NSW Government tell their contingent recruitment suppliers that holding AND's innovative 'Disability Confident Recruiter' accreditation would be very highly regarded.
Strategies to get more women into traditionally male dominated fields such as IT are common, but we're also now being regularly asked to assist with indigenous diversity objectives.
There have also been a couple of requests to assist with age diversity in the technology space.
Deemed employment risk
While most organisations are increasingly keen to address this, one organisation we were talking to had decided to go the other way and offer their contractors sick leave, annual leave and company cars, despite contractors already being offered a higher hourly rate to compensate for not receiving such benefits.
Their logic was that by providing the benefits usually associated with permanent staff, they would improve their employment brand in the market.
Contingent labour remains a key part of the Australian economy, with no sign of that changing as we move into 2020.
AUTHOR
Richard Barnett
Client Solutions Director, Australia and New Zealand
Richard has over 20 years' experience in leadership roles in the Australian recruitment and HR services sector. He has particularly strong experience in the IT recruitment sector, gained over a 15 year period as General Manager for one of the country's largest IT agencies. Outside work, he has been on the Board of the 'Australian Network on Disability' since 2008, helping guide the country's leading body for the development of employment opportunities for people with disability.