Content_GLO_HTS_BlogTitle
Asset Publisher
CAN PROCUREMENT BECOME AN EXPONENTIAL ORGANISATION?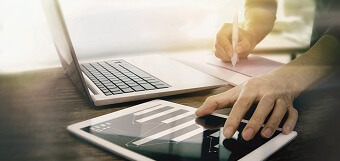 Back in May I had the opportunity to meet Yuri van Geest at a boardroom meeting where he spoke about exponential organisations (ExOs). Yuri is a passionate professional, author, international keynote speaker and entrepreneur on exponential emerging technologies. After his presentation I had the opportunity to talk to him and exchange thoughts on this topic.
This planted a seed in my mind and these thoughts didn't let go during my recent vacation to the south of Spain.
As you might have read in my last two blogs I mentioned the current state of procurement functions in companies (still mostly seen as the 'lemon press' remember?) and the adaption of automation (or rather the lack of) in the procurement function.
The world of work is changing rapidly and we need to consider who this influences and how this affects procurement and whether there is a need for a functional change?
But what if for a change procurement is taking the lead in these organisational changes? Not just services procurement, but the procurement function in all its glory.
What is an exponential organisation (ExO)?
According to Yuri and his co-writer Salim Ismail, an ExO is one whose impact (or output) is dis-proportionally large – at least 10x larger – compared to its peers due to the use of new organisational techniques that leverage accelerating technologies.
Linear vs. exponential
If we look at the statement made above, what does this mean for a procurement function? What would it mean if procurement had at least 10x bigger impact or output than its peers, how do we even measure this?
First of all comparing the impact of your own procurement function against peers in the industry is going to be difficult if not impossible.
Though it might be possible to learn about how your peers function through research using acknowledged institutes such as CIPS or through companies like Deloitte. Only than a baseline can be established. Measuring against other functions within the company wouldn't make sense, since they are performing in a different field.
What does it take to become an ExO procurement organisation?
You've established a baseline from your peers' performance, but what does it take to become an ExO procurement organisation?
First of all cutting edge technology; if technology is not available (yet), it should be developed and designed by the procurement and IT team. This will require totally different types of procurement people with different personalities/characters.
These people need to have a mindset and skill set that is currently unknown to procurement. It allows them to develop a fast changing environment, a new way of working with vendors/suppliers and opens up the opportunity to learn from different sources and work in an agile non-linear manner.
Often procurement people are accountable for achieving cost savings, but what if we take this not one step further, but take a giant leap? What if we make procurement responsible and accountable for a totally new manner of acquiring goods and services, develop new ways of establishing and maintaining vendor relationships and find new ways of looking at Total Cost of Ownership (TCO) and cost allocation.
Could every procurement function become an ExO?
Maybe not, but at least by looking at procurement and its' role in a thought provoking way we can start changing the view on procurement, its' value add and maybe even its' role within a company. Why not take a leadership's role in driving change within the whole organisation?
I'm aware that I've only touched the surface on the topic of ExOs, in my next blog I will be talking about blockchain and other technologies that fits into this. There is so much to be discovered and so much to learn.
After all the great chefs in this world have changed the culinary world not just by improving existing recipes, but choosing a bold and never tried before manner of developing recipes and ways of cooking. Trial and error, persistence, frustration, anger but at the end the glory of success.
So let's start this journey today.
I would like to take this opportunity to thank Yuri van Geest for his support.
AUTHOR
Eric Mesrits
Global Head of Services Procurement, Hays Talent Solutions
Drawing on more than 30 years' experience in sourcing and procurement leadership, Eric has all the trophies and battle scars of driving strategic procurement change, and will gladly discuss his learns with you.
Quoted as saying he stopped 'buying' in the 80's Eric's view of procurement is firmly vested in the importance of strategic relationship development, both internally and externally. When he's not immersed in connecting stakeholders for services procurement solutions development Eric is a busy entrepreneur, educating the world's top chefs as a certified olive oil sommelier.