BLOG

null
Expectations have evolved. Are your engagement and development strategies setting you up for success?
Expectations have evolved. Are your engagement and development strategies setting you up for success?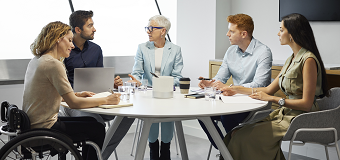 Circumstances change, priorities shift.
The skilled professionals that organisations are searching for expect an efficient assessment, selection and onboarding process, with seamless integration into the organisation regardless of where they are based.
Workers are eager to see evidence of a company culture that can transcend virtual, remote and hybrid working arrangements. They are searching for a partnership with their employer, not a power struggle that will force them to compromise the hard-won flexibility and greater autonomy over their careers.
The value that people add must be recognised and rewarded, but how this is managed must evolve in line with changing expectations. Organisations can no longer just lean into a competitive salary – they will need to craft a proposition that considers career development and personal wellbeing, tailored to the needs and ambitions of each individual.
In part 3 of this series, we explore some of the challenges and opportunities facing organisations as they strive to build a sense of belonging amid an increasingly digital, diverse and disconnected workforce.
New levers, evolving expectations
In
part 2
of this series, we explored how skills shortages will force organisations to deploy an omnichannel sourcing strategy that identifies and leverages a greater array of dynamic talent networks.
For those ahead of the curve, exciting opportunities await. The doors are opening for diverse, alternative and previously overlooked talent,
empowered by flexible working models
and access to a greater array of learning and development opportunities. But this will not come without its challenges.
Ruth Munday
, Global Head of Client Development, explains;
"A shortage of skills means that organisations are having to adjust the profile of who they are recruiting. Many are
opting to hire for potential
, considering different skillsets and workers (such as contingent staff) and tailoring their Employee Value Proposition in a bid to attract talent across industries.
We've shifted the way we search for skills. Now, we need to ensure we realign our expectations.
If, for example, we are placing more junior or early-in-career individuals into roles that traditionally required prior experience, hiring managers must understand that these new employees will need additional support and guidance, ensuring the appropriate training is in place from Day 1 to secure speed-to-productivity.
We see a similar story as we attract across industries. The worlds of technology and banking, for example, often contrast in terms of working environments and company cultures. Organisations should make extra effort during the preboarding and onboarding stages to bridge this gap for prospective employees, ensuring they can navigate nuances between differing tones of voice, expectations of success and opportunities for growth".
A culture without a company headquarters?
In a world where hybrid working is the expectation, companies are no longer tied to a location, nor can their cultures be bound by an office. Organisations will need to consider
different ways to invest in 'togetherness
', exploring how they can acknowledge and celebrate success, facilitate the sharing of knowledge and create a sense of belonging amongst teams who are increasingly sharing screens, rather than desks.
Traditional rewards and recognition structures will not be enough to rebuild cultures and retain critical expertise. Although a competitive salary remains important, people are also searching for evidence of internal mobility and opportunities for learning and development.
Organisations must move forward with a holistic approach
towards Talent Management
. With a comprehensive oversight of their current and future skills needs, organisations can make effective decisions on upskilling and reskilling initiatives, map the careers of their brightest talent and ensure they have the skills in place to meet today's demands – and seize tomorrow's opportunities.
You're working with people, so act like it
Ongoing skills shortages means that many workers are stretching their capacity to compensate for missing expertise.
When time is tight, the 'softer', less tangible tasks, including welcome tours, introductory calls (both virtual and in-person) and team-building activities can slip in favour of activities that contribute directly to the organisation's bottom line.
But there must be a mutual understanding of the effort that goes into getting somebody 'through the door'. Both the organisation and the employee have already invested significant time, resource and energy. To falter during the earliest stages of the employee experience will likely prompt workers to question their commitment and
perhaps even their decision
, with 41% of workers stating they would give their new role
just 2-6 months before quitting
, if it wasn't what they expected.
Nicky Leavy
, Global Service Transformation Director at Hays, adds;
"We spend a lot of time exploring and refining the technologies and processes that support the attraction and onboarding stages of recruitment. Driving efficiencies, honing candidate selection and securing cost-savings are all important, but we can't forget the distinctly human element in all of this.
It's not rocket science, we need to just treat people with the fairness, equity and inclusivity we would expect to be treated with. Listen to their stories, find out what makes them tick, uncover their passions and interests – and then align this with your purpose and mission.
The emotional buy-in you secure at the start of the onboarding experience will drive your people further, faster and with greater intent to
do what is right
for your organisation".
Facing tomorrow's challenges
Attracting the right people is essential. But shaping a strategy to ensure the retention and reengagement of skills and expertise is critical to your long-term success.
Building a sense of belonging will require organisations to adjust their expectations, ensuring suitable processes are in place to train, develop and accelerate the value added by workers. Traditional levers can no longer be relied upon to cultivate a company culture, as tomorrow's talent seek opportunities for mobility and personal development.
Above all, there's a need to retain a human touch in what is an increasingly tech-dominated world. We're a people business, committed to finding the best people for your business. To discuss how Hays can help solve the workforce challenges you face,
get in touch today
.
Read the final part of this series