Content_GLO_HTS_BlogTitle
Asset Publisher
HOW TO TAKE AN EFFECTIVE JOB BRIEFING FROM YOUR HIRING MANAGER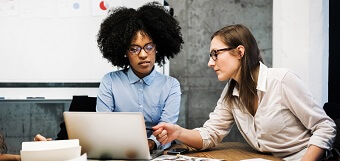 Successful talent acquisition is never an easy task. If it's not handled properly, it can result in a great deal of confusion, and wasted time and effort.
Worse still, lack of basic groundwork can lead to hiring mistakes that are costly to undo.
Getting the job specification and hiring process pinned down from the outset, goes a long way towards efficient and effective recruitment. It also reduces executive stress and business disruption.
It's worth looking in detail at the best way to develop a job brief, particularly if you are planning to use recruitment process outsourcing.
Preparation in advance
It is important to start by building understanding and insights prior to meeting with the hiring manager. If you assume information needed will flow easily in the initial briefing meeting you will be disappointed.
Initial research should include a detailed company profile, including competition and relevant recruitment data.
If you go to the briefing meeting blind, you waste precious time covering information that is easy to prepare ahead of time. Also, having prior knowledge makes it easier to ask relevant and searching questions.
And let's be honest. If you go in to the meeting with an understanding of the company, it is a great deal more professional and authoritative.
Asking insightful questions
Using a generic set of questions does not provide enough insight to support effective recruitment.
Each meeting with a hiring manager requires a unique set of pertinent queries, with direct relevance to the vacancy.
It is the only way of being sure of creating a job specification that matches the organisation's specific business needs and talent requirements.
Keep it real; candidates as benchmarks
One of the best ways to build a detailed and complete job specification, is to provide the hiring manager with real candidates as examples.
They can then express views on their suitability and explain the rationale behind their decisions.
This makes talent acquisition more focused and in-tune with preferences.
Real candidates to benchmark the job brief against can come from a variety of sources, such as a LinkedIn Advanced search.
Having examples of candidates also serves to illustrate to the hiring manager that you already have a strong grasp of post requirements.
Leave enough time
As getting the basic job specifications right is so crucial, it is important to invest sufficient time from the start, without distractions or interruptions.
Talking of 'time', one of the most vital tools for taking any form of brief is listening skills.
Use open ended questions, and constructive listening to formulate additional questions. This creates time for the hiring manager to clarify and for you to build a deeper understanding of the job requirements.
It all adds up to a relaxed consultation about the job brief, rather than a rigid or rushed interview.
Manage expectations
To ensure that talent acquisition is streamlined and effective, a reality check is often required.
It starts from a realistic job specification. If the initial meeting results in a search for an impossibly perfect candidate, it's a non- starter.
For example, use professional insights and confidence to be open and honest with the hiring manager.
If the salary or some other aspect of the post is likely to deter the right calibre of candidates, now is the time to speak up.
It can look a great deal more professional if potential problems are dealt with early in the process, avoiding wasted time and resources.
Make a robust plan
The initial meeting is also the best time to develop a clear action plan. You need to know who they need to recruit, but also the timescales.
This detailed and realistic schedule should include sufficient time for every stage of the process.
Having this discussion in the initial briefing meeting makes it possible to pin the hiring manager down too.
Ask them to put each milestone in their diary – especially the commitment needed to conduct interviews. It avoids delays and distractions caused by diary issues further down the line.
Clarity of intent
Creating the initial job brief is also the best place to discuss your strategy.
The hiring manager needs to leave this meeting confident that the recruitment team has the best possible chance of finding the right candidate.
Discussing your strategies early on also provides the opportunity for discussion and amendment. Which is why it makes sense to explain some of the things you are not going to do, with clear reasons for your choices. It alleviates any confusion or queries later on.
Meeting follow up
After a productive initial meeting, what's next?
Immediately afterward, provide the hiring manager with a full account of the discussion, including responsibilities and timescale. Agreement is needed on the frequency and preferred methods for updates too.
For more information on best practice techniques, Hays Talent Solutions would be pleased to share the insights it has gained from its successful managed service programmes.
AUTHOR
Sara Thompson
UK Programme Director, Hays Talent Solutions
Sara has in excess of 25 years recruitment industry experience gained across EMEA and APAC. She is currently the Programme Director for a large and complex customer across Europe. In addition to managing a variety of RPO and MSP programmes, Sara has also worked as a senior leader in Talent Acquisition for a large financial services organisation. As a result Sara is able to provide insights gained both as a client and vendor to develop successful recruitment solutions across a broad number of geographies.