BLOG

null
Is your DE&I strategy setting you up for success? Part 2
IS YOUR DE&I STRATEGY SETTING YOU UP FOR SUCCESS? PART 2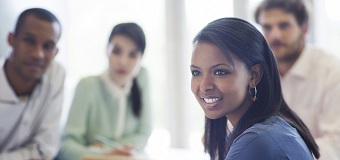 Building an inclusive culture to enable diverse candidates to thrive.
You've diversified your talent networks and refined your assessment and selection processes, developing the strategies explored in part 1 of this series.
Broadening the scope of your search has seen the volume of diverse talent entering your organisation increase.
But these individuals aren't sticking around.
Culture is key
Research indicates there's a disconnect in our understanding of why employees are leaving. While organisations obsess over
'transactional' factors
, such as compensation and work-life balance, employees are citing that they departed as they didn't feel valued (54%), or that they lacked a sense of belonging within the workplace (51%).
The picture worsens when we home in on diverse candidates:
Just over half (54%) of black employees rate their sense of belonging at work '

good or very good

'

, compared to 70% of white employees.
1 in 5 women report a '

strong sense

' of belonging in the workplace, compared to nearly a third of men.
While diversity can be created through a deliberate and sustained commitment to ensuring attraction, assessment and selection processes are equitable, it is not guaranteed that inclusion will follow.
But championing inclusivity makes good business sense. Company cultures with a high sense of belonging have witnessed a
56% increase in productivity
, with employee turnover halving.
Faced with unsteady attrition rates, fierce competition for expertise and a chronic skills shortage, can you afford to let promising candidates leave before they've had the opportunity to make an impact?
In this blog, we'll explore how organisations can reshape their culture to ensure diverse individuals feel like they belong, drawing on our experiences across the world of work.
Utilise the opportunity of onboarding: The transition between roles is a turbulent time for both employers and employees, but this upheaval can leave diverse candidates feeling particularly vulnerable.
Many will be leaving the safety of an organisation in which they are able to bring their 'whole self' to work, and without an engaging onboarding experience, could find themselves eager to return to their previous role.
Leverage the onboarding process to make the commitment to your diverse candidates clear.
Ensure that your new starters have the appropriate technology to thrive in their new role. This could include voice-to-text software, sign language applications and colour-coded keyboards for candidates with visual or hearing impairments, for example.
And consider how the right technology could turn obstacles into opportunities to build better connections. For candidates with disabilities, opting to host virtual 'coffee mornings' or team-building exercises showcases your commitment to inclusion over an 'in-person' preference.
We're also seeing a growing number of organisations deploy 'buddy' systems, in which new employees are matched with an existing worker who guides them through the first few weeks and months at the organisation.
Put thought into your pairings. Request input from your new starters to understand their preferred learning and working styles, their communication preferences and any reservations they may have. Where possible, match people based on shared personalities and characteristics, as these buddies will be able to empathise with specific challenges or concerns.
And seeing an individual who shares the same gender, ethnicity or impairment thriving within your organisation could offer the assurance that success is both possible and actively promoted.
Make an authentic commitment: Some candidates are sold the promise of a diverse and inclusive culture during the selection and assessment process, but after joining the organisation, fail to see these claims translated into their day-to-day reality.
The team at
Fleishman Hillard
call this jarring between expectation and experience an 'authenticity problem'. Organisations must ensure a fundamental alignment of who they claim to be and who they really are, or risk falling short of expectations.
Create, endorse and fund events or spaces that allow people to celebrate their differences and share these characteristics in the workplace. Offer dedicated networking opportunities aimed at dismantling the barriers that face some diverse candidates, such as women in STEM-based roles or graduates facing an educational attainment gap.
Recognise significant occasions across a variety of cultural calendars and encourage others to use these events to inform their understanding, becoming authentic allies of diversity. Ensure these one-off celebrations are complimented with a sustained commitment to 'making space' for diversity. Many organisations are offering dedicated prayer rooms or reconfiguring their office spaces to accommodate neurodivergent employees.
Ambitious intentions will get people to join your organisation. Meaningful actions will ensure they stay.
Safety first: Diverse teams are repeatedly linked with enhanced innovation and improved performance. However, research has shown that heterogenous teams often underperform relative to homogenous counterparts. This is because people with similar backgrounds share norms and assumptions about how to behave, how to set priorities and at what pace to do the work.
With this safety net in place, individuals are more likely to engage in the free exchange of ideas that fosters creativity and innovation.
To instill this trust, you need to get to know your teams. The company culture that celebrates diversity is a strong starting point, but it must be layered with a deeper understanding of how the people in your team think, their unique ambitions and how they engage with the world around them.
Carve out the first few minutes of meetings to ask questions that aren't project focused. Schedule regular one-to-one catch up sessions and take time to check in on the mental wellbeing of individuals.
Remain sensitive to the differences between cultures, backgrounds and experiences and acknowledge that some people may feel uncomfortable sharing information, even if they feel a sense of psychological safety.
Meetings – whether virtual or in-person – will play a critical role in forging the safety to challenge. Frame these spaces as an opportunity for information sharing rather than decision-making encounters, and practice '
genuine inquiry
' that draws out the ideas of others and promotes healthy debate.
And make sure to monitor your efforts. Review each interaction critically:
Do you hear a variety of voices and perspectives during meetings?
Are people routinely seeking feedback – and are others freely offering comments, both positive and negative?
When you ask your team for updates, are people comfortable sharing the status of their projects, and in particular, are they comfortable discussing the elements at risk?

Do your diverse employees feel like they belong?
Jason Dunwell, Head of Solution and Advisory (UK&I), adds:
'We have to be forensic in our approach to equity and inclusion.
The world of work evolves at such a pace that it's easy to fall into a habit of quick wins, or search for shortcuts in the hope they will offer better outcomes.
But real, meaningful change doesn't happen overnight. Achieving an environment of psychological safety in a team is one of those examples where championing speed over quality will be detrimental in the long term.
Taking the time to create a culture of shared safety, in which individuals can use their voice to challenge the status quo and effectively contribute to the growth of your organisation is only possible if you have taken the time to build secure bonds, getting to know your teams on a deeper level.
When competition is fierce, slowing down can feel illogical. The market is challenging and businesses are eager to fill vacant seats or recoup lost time or work. But if you haven't inducted people in a way that allows them to feel comfortable contributing, you risk having a negative impact on your investment.
Communication is important. But actions are critical.
You might highlight the importance of inclusivity within your company culture, but are you treating your DE&I strategy in the same way you treat other business critical objectives? Do you have a team dedicated to instigating change? Is performance monitored and managed accordingly?
Align your strategies to your culture. Review your

Employer Value Proposition

. Close your authenticity gaps. It won't be easy, but it's the change your candidates want to see'.
Here at Hays, we're partnering with a number of organisations to support our clients as they build better, more inclusive cultures that work for everyone.
In the final part of this series, we'll explore the integral role of leaders in empowering diverse employees to thrive.
Contact us
to explore how we can elevate your Diversity, Equity and Inclusion strategy, together.
Other content we thought you'd be interested in