BLOG

null
Is your DE&I strategy setting you up for success? Part 3
IS YOUR DE&I STRATEGY SETTING YOU UP FOR SUCCESS? PART 3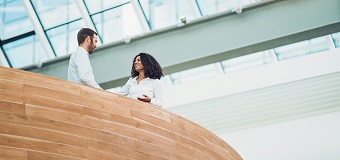 The importance of inclusive leadership
'The financial benefits of diversity have long been proven'.
The conversation has shifted from hooking the importance of DE&I to an improvement in performance, to viewing inclusivity and equitable practices as an integral part of an organisation's values and purpose.
'A commitment to "
doing the right thing
" will see organisations do and become so much more', states Matthew Dickason, CEO of Enterprise Solutions at Hays.
In Part 1
of this mini-series, we offered a range of strategies for refining the assessment and selection processes within your organisation, dismantling the hurdles that diverse candidates face.
In Part 2
, we explored the importance of crafting an inclusive culture, including a review of the onboarding process and the authenticity of your commitment.
These are essential pieces of a puzzle that will see organisation piece together a workforce strategy with DE&I at its core. But without the sustained and visible endorsement from leaders, this valuable work will fall flat.
In the final blog of this series, Matthew joins forces with
Dan Robertson
, Director at
Vercida Consulting
, to explore the critical role that leaders play in creating a culture of inclusivity.
Use your voice: The social, economic and political turbulence of the last few years has eroded our existing notions of how businesses should engage with divisive or sensitive debates, according to Dan.
Leaders are being forced onto the public stage. How they respond has ramifications across the organisation, including the inclusivity of their company culture:
82% of employees say that it is important for them to know the CEO's position on social issues, with 86% stating that CEOs who defend people's rights demonstrate '

great leadership

'.

53% of consumers

agree that every brand has a responsibility to get involved in at least one social issue that does not directly impact its business.
This external advoacy must be matched with internal amplification. Leaders must leverage their voice to promote others in spaces where disadvantaged or diverse talent are currently not present.
A growing number of organisations are implementing sponsorship programmes in a bid to make meaningful progress on their diversity, equity and inclusion strategies.
Sponsorship sees people in positions of authority connecting with potential employees '
a few rungs lower
' on the corporate ladder. Leaders must be prepared to '
put their skin in the game
', using their connections to champion protégés from different racial or cultural backgrounds.
But it's a risk that sponsors need to get more comfortable with in order to tackle the systemic and structural issues that allows bias to persist.
Consider how you can give diverse talent a voice in every conversation.
Enhance your EQ: Leaders need to match a comprehensive knowledge of the organisation with a detailed understanding of the people who power it forward.
Your teams take their cues from your actions, so lead intelligently. Practice active listening, carve out time to get to know your colleagues on a deeper level (including the stressors that may compromise their EQ) and empathise with the challenges that people from differing backgrounds or cultures may face.
By setting a tone of mutual respect, you're encouraging others across your organisation to do the same.
The concept of EQ has gained momentum in recent years, but Dan highlights the urgency of pushing EQ to the top of the CEO's agenda.
'For so long, EQ has been seen as a soft skill – a 'nice to have', rather than an essential trait for every leader. The reality is that it's a core competency. If you're unable to read the room, you will find it increasingly difficult to manage people who are different from you'.
Build better environments: Leaders must take a central role in designing the teams and conditions that will power success.
Senior executives will have sign-off across many of the policies and practices that shape the workplace. But before any decisions are made, leaders will need to look beyond their own preferences, considering the additional challenges that diverse candidates may face.
'Pushing a return to the 9-5 lifestyle is a strategic mistake,' Dan comments.
For individuals with disabilities, care-giving responsibilities or working parents, such a stringent policy will create additional complications.
In the post-pandemic world of work, hybrid working can help level the playing field for a number of diverse candidates. The onus is on leaders to find a way that makes it work for their organsation.
Keep the conversation going
'No-one is where they need to be, there is a lot of work to be done. You shouldn't let the fact that you aren't quite where you want to be as an organisation stop you from shaping your opinion and leading the change', Matthew concludes.
In the battle for talent, we need to widen our vision. But this needs to be complemented with equitable assessment and selection processes, inclusive cultures that promote a sense of belonging for all colleagues and leaders that buy into the importance of DE&I strategies in powering their growth.
Together, we can enable diverse talent and empower them to succeed.
Contact us
to discuss how the scope of our advisory services can tackle the people challenges you face.
Other content we thought you'd be interested in