Content_GLO_HTS_BlogTitle
Asset Publisher
4 STEPS TO KEEP YOUR CONTINGENT WORKERS ENGAGED DURING THE FESTIVE PERIOD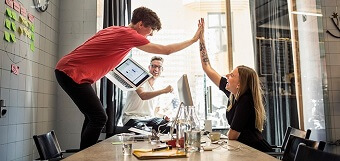 For many permanent staff, the December/January period is a time when public holidays and annual leave are taken and the batteries are recharged for the year ahead. However, for temporary staff, this time can be more uncertain. Shutdowns or reduced hours and timesheet approvals are some of the issues temporary workers typically raise during this time of year – but they are issues you can address in advance to ensure your temporary workers remain engaged during this period.
Without any silver bullets, here are some simple and immediate measures you can put in place to counter balance any stress on temporary staff.
1. Communicate early
Communicate to your labour hire firm and temporary workers your organisation's shutdown dates or reduced hours, as well as any revised pay dates, well in advance. This shows that you understand the resulting impact of such changes on your temporary workers, while giving them sufficient time to manage their finances accordingly.
2. Set up timesheet approvers
Check if the people who normally approve timesheets will be on leave during this period. If they will, nominate a manager who will be present who can approve timesheets for those temporary staff working during this time. Missed pay dates during the Christmas period can cause a lot of anxiety for temporary workers.
3. Be transparent during the recruitment process
Ensure that temporary staff understand how their pay rates work. For example, leave loading is paid on top of their normal rate. While you are not a finance expert, perhaps you could suggest they put some finances aside to cover expenses during months when they will have unpaid time off.
4. Consider your business needs
Consider the needs of your organisation and whether you need temporary staff to work through part of your typical shutdown period. Do you need to keep certain operations running during December/January?
Alternatively, could a temporary worker cover the workload of a permanent employee who would like to take time off? Temporary staff who are keen and able to work during a shutdown often appreciate the opportunity to work, even if that's on reduced hours. Your business may also benefit from certain projects or activities continuing.
With temporary staff accounting for an increasingly larger percentage of an organisation's workforce, it is important to consider the impact this time of year can have on them. Doing so will ensure that you still have an actively engaged temporary workforce when business activity resumes as normal after the holidays.
AUTHOR
Michael Gauci
Senior Client Services Manager, Australia, Hays Talent Solutions
Michael has over 12 years of program management experience, consulting to a vast array of organisations across multiple industries within APAC.

Having managed a variety of outsourcing models (RPO, Master Vendor, MSP), his passion and focus is centred on stakeholder engagement, people leadership, operational delivery and providing consistent, result driven programs which are strategically aligned to his client's needs.