null
The essential building blocks of a Talent Forward Managed Service Program
THE ESSENTIAL BUILDING BLOCKS OF A TALENT FORWARD MANAGED SERVICE PROGRAM
As we look into the future of contingent workforce management, and our vision of what an MSP solution should deliver, we must acknowledge that many of today's MSP programs are broken and failing to deliver on their original promise. These legacy programs have become ineffective, pushing managers and talent into a broken process and creating endless frustration. To the point where, after having squeezed every last penny from the staffing supply chain, they are no longer delivering the best talent to the client.
We call today's market reality "MSP 1.0" and in many programs it is represented by a command-and-control mentality where the MSP actively prevents staffing suppliers from speaking to the business managers who have created requisitions for new workers, enforces unrealistic pricing restrictions, and delivers an anemic value proposition through a burdensome and time-consuming process.
It is no wonder that many hiring managers are frustrated with their organization's contingent workforce program, and as a result many legacy MSP program stakeholders discover huge amounts of rogue spend taking place outside of their programs. We've even seen recent examples where procurement and HR stakeholders have become so disenchanted with their contingent workforce MSP program providers that they are actually considering taking the draconian step of shifting their programs in-house.
It is clearly time for a change.
Our vision of what an MSP should be is unique, and many would say disruptive, when compared to the traditional providers in the space. At Hays Talent Solutions our primary objective as an MSP is to ensure our clients get access to the best talent, in the right time and place, for a fair price – regardless of source, or worker classification. We call this enabling approach our Talent Forward methodology, and it is the foundation of our answer to the broken status quo.
There are four foundational building blocks to the Talent Forward solution, all designed to work together and provide clients with better access to talent. They are:
Staffing Supplier Enablement – Building a program where supplier partners are informed, excited, engaged and committed to delivering the best talent to our clients.
Extended Supply Chain – Expanding and optimizing the mix of traditional and alternative talent suppliers, including SOW, service providers, and online marketplaces.

Direct Sourcing – An outsourced recruiting solution, sometimes referred to as "RPO for contingent", that leverages our client's brand to build and engage a proprietary talent community.

Technology & Analytics – Streamlined process and real-time data capture across the enterprise program, robust analytics, and the resulting decision-making insights are the foundation of every technology-enabled service we deliver.
But it shouldn't stop there. In a recent Everest survey 65% of MSP clients bemoaned a lack of innovation from their partner. To ensure our Talent Forward MSP remains the service of choice for our clients we add
Co-Board –responsible for the review and sign off of a program of continuous improvement
Subject Matter Experts – while the core team are essential to the running of a successful program true external expertise is available to provide direction and support in areas such as ED&I, technology and change
And to hold ourselves accountable our Service Management Office is responsible for tracing and upholding our commitments
When deployed in a program environment built around open communication, transparency, and true partnership between a client and its talent supply chain – Talent Forward fulfils the vision of "MSP 3.0". It is an enlightened and future-proof methodology that ensures organizations consistently attract and retain the talent they need in today's challenging talent environment, and tomorrow's.
NOTE: This article is part of a series which will explore key elements of the Talent Forward MSP strategy, along with key insights and best practices from the workforce management experts at Hays Talent Solutions. Read the first blog in the series: Talent Forward: our vision of a next generation Managed Service Program
AUTHOR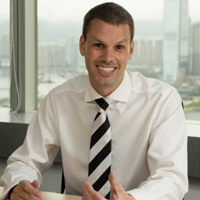 Robert Moffat
Senior Vice President – Global Head of Solutions and Americas Head of Sales, Solutions and Marketing, Hays Talent Solutions
With a 25 year track record of designing, implementing and managing talent services Robert has a wealth of knowledge on the challenges and opportunities facing employers in maintaining a competitive advantage in talent acquisition, engagement and retention.
As Global Head of Solutions Robert is part of the global leadership team responsible for innovation and product development and as Head of Sales, Solutions and Marketing for the Americas he is responsible for growth of the region. Having lived and worked for Hays in Europe, Asia Pacific and the Americas he is able to bring a diverse range of thought and experience to the new challenges in the world or work.
He has a passion for new ideas, markets and opportunities and has been instrumental in a number of Hays' recent global projects including the roll out of a Global Operating Method, Supplier Engagement Strategy, the evolution of our direct sourcing approach and a quick deploy RPO service for start-up and high growth companies.