Content_GLO_HTS_BlogTitle
Asset Publisher
THE ESSENTIAL BUILDING BLOCKS OF A TALENT FORWARD MSP PROGRAM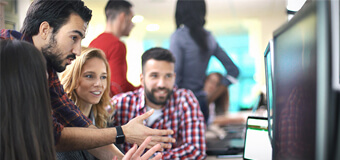 16th January 2019
As we look into the future of contingent workforce management, and our vision of what an MSP solution should deliver (Talent Forward Manifesto), we must acknowledge that many of today's MSP programs are broken and failing to deliver on their original promise. These legacy programs have become ineffective, pushing managers and talent into a broken process and creating endless frustration. To the point where, after having squeezed every last penny from the staffing supply chain, they are no longer delivering the best talent to the client.
We call today's market reality "MSP v1.0" and in many programs it is represented by a command and control mentality where the MSP actively prevents staffing suppliers from speaking to the business managers who have created requisitions for new workers, enforces unrealistic pricing restrictions, and delivers an anemic value proposition through a burdensome and time-consuming process.
It is no wonder that many hiring managers are frustrated with their organization's contingent workforce program, and as a result many legacy MSP program stakeholders discover huge amounts of rogue spend taking place outside of their programs. We've even seen recent examples where procurement and HR stakeholders have become so disenchanted with their contingent workforce MSP program providers that they are actually considering taking the draconian step of shifting their programs in-house.
It is clearly time for a change.
Our vision of what an MSP should be is unique, and many would say disruptive, when compared to the traditional providers in the space. At Hays Talent Solutions our primary objective as an MSP is to ensure our clients get access to the best talent, in the right time and place, for a fair price – regardless of source, or worker classification. We call this enabling approach our Talent Forward methodology, and it is the foundation of our answer to the broken status quo.
There are four major elements in the Talent Forward solution, all designed to work together and provide clients with better access to talent. They are:
Staffing Supplier Enablement – Building a program where supplier partners are informed, excited, engaged and committed to delivering the best talent to our clients.
Extended Supply Chain – Expanding and optimizing the mix of traditional and alternative talent suppliers, including SOW, service providers, and online marketplaces.
Direct Sourcing – An outsourced recruiting solution, sometimes referred to as "RPO for contingent", that leverages our client's brand to build and engage a proprietary talent community.
Technology & Analytics – Streamlined process and real-time data capture across the enterprise program, robust analytics, and the resulting decision-making insights are the foundation of every technology-enabled service we deliver.

When deployed in a program environment built around open communication, transparency, and true partnership between a client and its talent supply chain – Talent Forward fulfils the vision of "MSP v3.0". It is an enlightened and future-proof methodology that ensures organizations consistently attract and retain the talent they need in today's challenging talent environment, and tomorrow's.
NOTE: This article is part of a series which will explore key elements of the Talent Forward MSP strategy, along with key insights and best practices from the workforce management experts at Hays Talent Solutions.
Read the first blog in the series: Talent Forward Manifesto - Our vision of a next generation MSP program
AUTHOR
Kimball Norup
SVP, Head of growth at Hays Talent Solutions- Americas
With nearly two decades of experience in the human capital management industry. Kimball has experience in structural engineering, publishing entrepreneur, and running a successful strategy consulting firm. He earned a Bachelor of Science degree in Civil Engineering from California Polytechnic State University, San Luis Obispo and an MBA with honours from the University of California, Davis.

Now his expertise is used working cross-functionally with the Hays Talent Solutions global leadership team to build the strategic plan for the expansion of Hays Talent Solutions in the Americas region. Focusing on business growth and client acquisition, activation, retention, and upsell across the region.