BLOG

null
The game has changed. Are you still using the same strategies in a bid to secure skills?
The game has changed. Are you still using the same strategies in a bid to secure skills?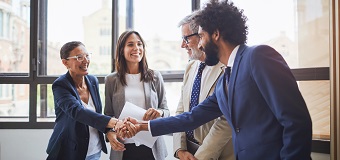 The evolution of technology and changing customer demands are
redefining the skills that organisations require
at breakneck speed. Existing skills mismatches, inadequate training and seismic demographic shifts mean that the right people aren't in place to tackle these changing priorities.
But identifying the skills to power success amid shortening shelf lives and evolving strategic ambitions is just the first piece of an increasingly complex talent management puzzle.
Competition is fierce and traditional sourcing methods are not producing the volume needed to plug business-critical gaps. Organisations will need to be agile, exploring alternative strategies and redefining the composition of their workforce.
As we look ahead to the next 12 months, we explore some of the key challenges that organisations will need to face in order to find the right fit, with insights from leading experts across the globe.
Building agile teams will require an agile strategy
The social, economic and geopolitical turbulence of the last few years has shown the importance of agility, in survival and also staying ahead of the competition. Fast-moving, flexible teams can identify, adjust and respond to changing market trends or customer needs at a pace that will outstrip their closest competitors.
No single sourcing strategy will be enough to build and retain tomorrow's agile workforce.
Organisations will need to deploy a multi-pronged – or omnichannel - strategy that identifies and leverages the appropriate talent network based on specific skills needs, rather than relying on tried, tested - and exhausted - methods. A data-driven mix that could include new hires, non-permanent project staff and the internal redistribution of expertise will enable organisations to build cross-functional teams aligned to strategic challenges rather than rigid business silos.
And as the capabilities of technologies such as Artificial Intelligence, Robotics and Machine Learning advance, talent management teams will need to explore not just 'who', but 'how' when considering how to drive efficiencies in process, while retaining the 'human touch' across service and product delivery.
The candidate is a vital customer
In a talent scarce market, organisations need to approach their candidate experience with the same intention in which they continuously monitor, review and realign their customer journey.
Every empty seat equates to missed deadlines, lost opportunities for growth and a possible reduction in revenue.
Instead, organisations must take a deep dive into their Employer Value Proposition, ensuring it can flex to the changing demands of a more complex workforce dynamic.
Global Head of Growth for Enterprise Solutions at Hays, David Spence, adds:
"In order to stay ahead of the competition and ensure you can engage the skills you need today, tomorrow and in the future, you need to champion the candidate's perspective.
Walk the proverbial mile in their shoes and question your processes along the way:
Do you offer an engaging interview process with quick decision-making?
Do you offer the benefits, flexibility and career progression that candidates are seeking? Everyone talks about the importance of Customer Centricity.
In an ever-evolving world of work, we need recognise that the candidate is the customer."
Leading the way
A focus on finding the right fit has prompted organisations to rethink their location strategies. With workers craving flexibility,
Talent Platforms
and Cross Border operations have surged in popularity.
To leverage these growing populations will require leaders to oversee multi-locational teams. Managers will need to span cross-functional teams, enabling communication and collaboration across cultures, time zones and technologies.
The challenge facing organisations is that this new style of management is 'not easily developed with conventional management or leadership training'.
As organisations broaden the scope of their sourcing channels, they must also explore the value added by diverse talent, empowered by more flexible working arrangements.
Candidates with caring responsibilities, returning parents and those with reduced mobility, for example, no longer face the limitations of geographical proximity. Talent platforms in particular have granted a sense of agency to anyone with an internet connection, unlocking access to a wealth of previously untapped or 'hidden' talent'.
However, this will create further complexities, as managers will need to be acutely aware of the additional barriers facing these individuals. Organisations will need to
understand, define and implement methods of continuous education
to ensure tomorrow's leaders are equipped with the abilities to leverage expertise across a more diverse mix of workers and sourcing strategies, or risk alienating the expertise they desperately need.
Finding tomorrow's talent, together
We understand the impact of the right person, in the right role, equipped with the right technologies and processes to foster innovation, creativity and growth.
But finding the right fit will mean navigating alternative or emerging sourcing channels, restructuring an EVP to accommodate shifting priorities and ensuring leaders can bring out the best in diverse, digitally connected teams.
Your success is at the heart of our business. To discuss how Hays can help solve the workforce challenges you face,
get in touch
today.
Read part 3