BLOG

null
The Penultimate Debrief: Reflecting on 2022
THE PENULTIMATE DEBRIEF: REFLECTING ON 2022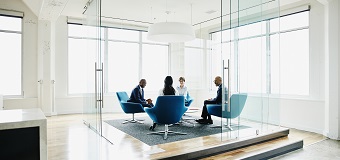 'We've been focused on doing what's right, and doing it well'.
The last few years have seen seismic changes in the world of work. And while we may no longer be confronted with the threat of a global pandemic, we are facing the tidal wave of change that this instigated, in addition to evolving geopolitical, social and economic circumstances.
Matthew Dickason
, CEO of Enterprise Solutions at Hays, reflects on three trends that have dominated conversations over the last 12 months; sustainability, technology and DE&I (Diversity, Equity and Inclusion), with insights into how Hays is partnering with our clients to help them navigate this more complex world of work.
Searching for sustainable solutions
2022 saw us enter '
emergency mode
' for the environment, with notable implications for organisations. Wildfires, pollution and flooding prompted disruption across supply chains, and posed a threat to the wellbeing of workers.
At the start of this year, I reflected on how the actions of key stakeholders have
pushed sustainability
to the top of the CEO agenda. Today's consumer is more informed, eager to learn and vocal in their beliefs. Throughout 2022, we've seen the spotlight shine more harshly on businesses who are lagging behind in their transition to a greener way of operating.
Organisations have continued to take the lead, ahead of governments and legislators, when it comes to implementing
sustainable workforce strategies
. Driven by a commercial imperative or a commitment to doing the right thing, companies are starting to set a pace of change that is necessary to mitigate the most severe impacts of climate change.
But there is still a long way to go.
As we approach the end of the year, we are in a completely different inflationary environment, one that creates additional obstacles for organisations on their journey. The green transition requires significant financial investment – across people, processes and technology – that are costly in the short term.
An ongoing skills mismatch adds further complexity. The energy sector is forecasting a
retirement crunch
that will see anywhere between one-fifth and a quarter of the workforce retire within the next decade, and technology is evolving at a pace that makes it virtually impossible to predict the skills that tomorrow's talent will need.
The magnitude of the problem may feel overwhelming, but it's a challenge that organisations cannot afford to ignore.
Over the last 12 months, we've enhanced our
in-house capabilities
, progressed our journey towards
Net Zero
and worked with training partners to enhance the volume of green skills across the organisations we partner with.
We're edging closer towards our sustainability ambitions and supporting our clients as they navigate the path towards a greener way of operating. In the year ahead, I hope we all continue to fight to do what's right.
All D and no E or I?
Events of the past few years have forced organisations to critically assess attitudes towards DE&I.
Many have been hyper-fixated on defining diversity within their organisation. It's an essential first step, but I think the conversation must now evolve to give equity and inclusivity a seat at the table.
Leaders need to ask difficult questions of themselves and their businesses to enable progress:
What kind of organisation do we want to be in tomorrow's world of work?
What do we need to do to drive equity and inclusivity across all levels of the business?
How can we enable everyone to be successful?
While it may not feel like it, broadening talent networks was the easy part. Ensuring that this diverse talent is offered an
equitable recruiting, engagement and onboarding experience
, and that these individuals enter into an
inclusive culture
that empowers them to bring their full self to work – that's more difficult to execute. But falling short at this stage will create dissatisfaction and disenchantment amongst the very people you've worked so hard to attract, prompting high rates of staff turnover.
Here at Hays,
we're positioning ourselves
to ensure we are better equipped with a greater range of advisory services to support organisations as they address these critical challenges.
People may be able to 'get in', but equity and inclusivity will help them to '
get on
'.
Technology disrupts the search for skills (again)
2022 was a year characterised not necessarily by new innovations, but incredible investments into existing strategies and solutions - and it's transforming the world of work.
When you look at the Human Cloud, for example, there are over 700 different providers. This has fragmented the experience for organisations, hindering their ability to source the variety of skills they need from a considered mix of cloud-based talent pools.
However, the coronavirus pandemic forced us to get comfortable with accessing talent via digital means, with organisations growing accustomed to a greater level of risk. As a result, we've seen a greater appetite when it comes to the adoption of Human Clouds, with clients exploring how they can optimise this strategy and integrate these sources of talent into their wider workforce ecosystem.
Over the last 12 months, we've been engaging with these organisations to understand their risk framework and skills needs and aligning their capability gaps with the right mix across their talent ecosystem.
What we've seen is that amongst even the most successful Cloud providers is that they still require a certain level of human intervention. We're drawing on our extensive experience in talent pooling to help organisations attract, engage and onboard the expertise they need across these growing networks, including private or 'custom' Clouds.
But this intervention will need to stretch beyond simply facilitating faster access to expertise.
The shelf life of skills has shortened
, meaning organisations will need to consider not just how they attract the skills they need today, but the expertise that will be needed (and possibly not yet defined) to achieve tomorrow's ambitions.
Reflect, Anticipate and Plan
I always enjoy this time of year. It's a chance to celebrate success, as well as appreciating the lessons that come from falling short of the finish line.
But what excites me most are the possibilities that await us in the new year. In the final Dickason Debrief of 2022, I'll offer my predictions for the next 12 months, exploring the trends that will push us all to adapt, evolve and succeed in ways we haven't yet imagined.
Here at Hays, we're your lifelong partner in the world of work. Whether it's solving skills needs today or forecasting your future requirements, we have the expertise, insights and technologies to elevate your workforce strategy.
Other content we thought you'd be interested in