null
To promote internally or to hire externally?
TO PROMOTE INTERNALLY OR TO HIRE EXTERNALLY?
I recently assumed the role of Global Managing Director of Hays Talent Solutions, where I'm responsible for ensuring that our clients benefit from intelligent resourcing solutions that are consistent and "world class", regardless of their geographic location. I'm really excited about the expansion of the role. My plan is to build a globally aligned strategy that supports our evolution and growth, delivered through investment in our people, processes and technology.
I'm a strong believer in a business being only as strong as its people, so my first priority was to build a bright and bold global leadership team.
Building the team
Establishing a global team for Talent Solutions is essential for the development of our business, and as such the pressure was really on. Getting just one individual wrong would have been a threat to the whole operation; one bad hire is all it takes to affect the positivity and productivity of the entire team. I needed to make sure that everyone would be pulling in the same direction and supported by the wider business from the word go.
The first question I asked myself before embarking on this task was whether I wanted to hire from the external market or whether I should promote colleagues from the existing Hays business. As I saw it, both routes have their advantages. Here are a few of those advantages that I've identified:
Advantages of promoting internally
I'm a huge advocate of promoting internally; after all, internal promotions have got me to where I am today. I personally prefer this method because it means I can walk into the new role feeling fully competent and confident about the company structure and processes. However there are many more benefits to this method of team building:
Better business understanding – Those who have been with the business for some time should understand the processes and systems already. These employees are ingrained in your business' culture and will have a comprehensive understanding of its values and ambitions. This helps to make the on-boarding process a lot smoother for the employer – in this case, me.
Rewarding loyalty – Rewarding high-performing employees from within your business demonstrates that you care about their career progression and that there are many more rungs on the career ladder within the business for them to aspire to. They are, as a result, likely to remain loyal to the business for a while yet. In fact, a recent study has found that those promoted externally are 21% more likely to leave the business compared to the more loyal, internal hires.
Cost and time effective – Following on from the above two points, internally promoted employees won't require as much training or on-boarding as those recruited externally. This saves you both time and money. The study referenced in the previous point also found that external hires end up costing your business between 18 and 20% more for the same job.

Advantages of hiring externally
By hiring externally you are giving yourself access to a far larger talent pool, which is particularly important if you are looking for specific skills. A popular approach is to first look within the business for employees with the relevant skills and then, failing that, to broaden your search to include people outside of the company.
New perspectives and ideas – Perhaps the biggest benefit of recruiting externally is all the new and varied perspectives that you are bringing into your business. Each new hire will have accrued a particular set of skills and expertise from their previous employer, and it's by combining all of these that you can repeatedly come to the best and most efficient practices.
A competitive advantage – Following on from the first point, hiring team members from competitors helps to provide you with some perspective on how effective your strategy really is. It's easy in a familiar team to become insular, believing that, as a market-leader, you have nothing to learn from your rivals. You may find, however, that someone else has a smarter and more cost-effective means of doing something. And if they don't, it's reaffirming to know that your business processes are the most efficient and streamlined out there.
Increased diversity – The multiple benefits of increased diversity is something that Hays recognises and is passionate about. If you're unfamiliar with the business benefits of diversity then have a read of this Viewpoint blog. Diversity can strengthen a business from both within (e.g. gender diverse companies are 15% more likely to outperform their less diverse counterparts) and externally (mirroring the diversity of your customer base helps you to better understand and meet their needs).
Having weighed up all of the above, I decided to advertise both internally and externally, implementing a thorough assessment process for each position. There are clear benefits to both methods of team building and so, not wanting to deprive myself of any of these advantages, I reasoned that a mix of the two would provide for the most diverse and dynamic team possible. Having now completed the process, I feel we have a great team to support our future business growth.
Bringing it all together
The team members that I promoted from within the business should help me to quickly embed the external hires into the company culture and processes, whilst the new blood brought in from outside will contribute fresh perspectives and suggestions to the team – affording me a healthy balance of people.
Now the task begins to build a truly global business. Having assembled my hybrid team, it's a case of aligning everyone's objectives; making sure that all of our priorities correspond to one another's and that the ultimate goal is always a collective one.
Rapid assimilation of a team which is comprised of many different backgrounds is no mean feat. I'll be addressing this point, as well as the challenges of leading a matrix organisation, in my next blog.
AUTHOR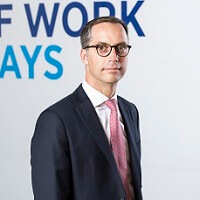 Matthew Dickason
Global Managing Director, Hays Talent Solutions
Matthew is the Global Managing Director for Hays Talent Solutions, having joined Hays in 2005. Previous roles held at Hays include Business Director in the UK and Chief Operating Officer for Asia Pacific. He is now responsible for leading the global business of Hays Talent Solutions and investing to ensure clients retain a competitive advantage in talent acquisition from the delivery of Hays MSP, RPO, technology and modular service solutions. For more information about Hays Talent Solutions, visit our website.

Prior to joining Hays, Matthew worked within Engineering, Research, Operations and Commercial areas at Johnson Matthey and Corning Inc. He has formal qualifications in Organisational Psychology and Industrial Engineering.