null
Achieve the vision of total talent management by extending the talent supply chain
ACHIEVE THE VISION OF TOTAL TALENT MANAGEMENT BY EXTENDING THE TALENT SUPPLY CHAIN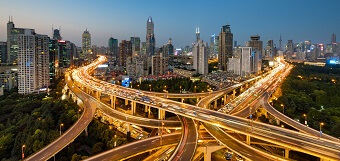 Here's the latest installment in our blog series on the innovative Talent Forward strategy, which is Hays Talent Solutions approach to providing MSP services that deliver the best talent, at the right time and place, for a fair cost – regardless of source or worker classification.
Previously we shared the concept of leveraging the Extended Supply Chain. This strategy effectively expands the talent supply chain beyond traditional temporary staffing agencies and becomes the second building block of a Talent Forward MSP service. Today we'll cover this powerful talent acquisition approach in greater detail, sharing details on how to extend your talent supply chain and build a Total Talent strategy enabling your organization to dramatically increase access to the best talent.
Traditional Staffing Agencies Can No Longer Provide All Non-Employee Labor
In the new era of talent scarcity, managing and optimizing a traditional staffing agency supply chain is often not enough to meet the talent demands of the business.
The concept of extending the talent supply chain is based on the fact that there are many different categories of workers performing services within the typical organization. This generally includes employees, temporary workers, contractors, services providers, and capital projects.

Each of these worker categories has its advantages and disadvantages – each has a use case, and a different sourcing strategy. Many progressive organizations have recognized that they need broad access to talent but struggle with navigating this complexity.
A progressive MSP service provider, like Hays Talent Solutions, can help. Our clients need to get vital work done. To do this, they need access to talent. As program partners our vision is make sure they get the best workers, at the right time and place, for a fair cost – regardless of worker classification or source.
We call this our Talent Forward approach.
Our vision is that all work within the organization should be holistically defined and managed from within one total workforce program. This "best sourcing" approach enables the selection of the best worker for the work to be done, at the right time and place, regardless of worker classification or source.
To make this vision a reality, we advocate an agile and enabling approach to delivering an MSP service, versus the traditional rigid and controlling one. To provide comprehensive oversight and management of the workforce, all talent suppliers should be part of an integrated managed program, where the work is appropriately vetted and a "best source" talent supplier decision is made.
Where should you start?
Begin with a Strategic Plan
The journey to transforming your workforce will not be easy or quick. The best place to start is by gathering a team of stakeholders from across the organization and creating a strategic plan. Here's a proven framework to follow:
Discovery – define the "as is" state of who is doing what work across the organization
Reality check – does what you discovered above make sense?
Vision – define the ideal "future" state of your workforce
Plan – create a strategic plan to bridge the gap from "as is" to "future" state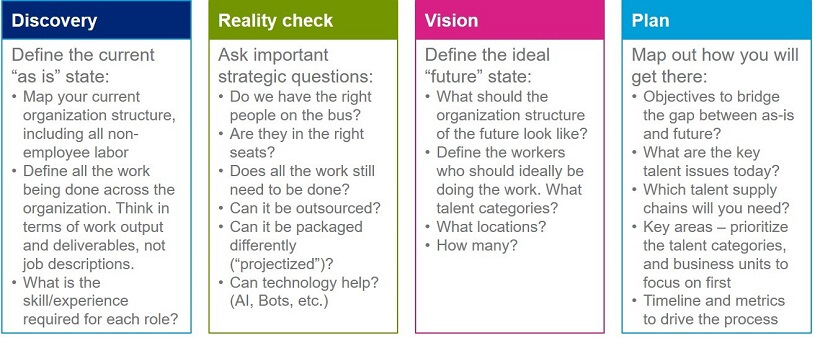 In addition to advocating for a cross-functional coalition (including HR, Talent Acquisition, Procurement, Finance, and Legal representatives) who are tasked with developing the strategic plan, we have also found a few other best practices amongst our clients who have gone down the total talent path:
Begin with Contingent –
The best segment to start with is your contingent worker population. Why? Non-employees are the fastest growing segment of the workforce, contingent labor touches the most areas of your business, and it is typically already a managed program. Starting with contingent labor is a convenient place to quickly make an impact and begin expanding the scope of the program to other segments of workers.
In most of our MSP programs, extending the supply chain starts organically. We begin with optimizing the traditional staffing supply chain. Then, depending on the unique client environment, we would look to add additional talent channels such as:
Adding a payrolling and compliance solution to accommodate workers who have been self-sourced by the client
SOW
Small service providers
Online staffing solutions
Direct sourcing

Keep it Simple –
The talent ecosystem is very complex and disjointed, on both the internal demand side and the external supply side. Therefore, the best advice is to start small and roll up from there. Many organizations choose to begin with one type of worker, often prioritizing by:
Most common roles
Highest spend
Biggest risk
Largest volume
Geographic concentration
Business impact

Partner with an Experienced MSP Service Provider –
Managing contingent labor for a large enterprise is a complex undertaking, unless you have deep experience amongst your team, you shouldn't attempt this without a seasoned industry partner. To achieve the vision of total talent you will want to make sure your MSP partner is enabling and not controlling – they should embrace a "talent forward" approach that provides access to the best talent, at the right time and place, for a fair cost – regardless of worker classification or source.
Build a Scalable, and Repeatable Process –
A key ingredient to a successful workforce management program is a quick and effective decision-making framework. The goal is to evaluate each new project and/or worker request so that you can decide what type of worker, or supplier, is best suited for the work to be done.
You should give a lot of thought to the governance and management of this process to ensure you're creating a "best source" decision-making model – one that will help sort new requests for workers into the right sourcing channel. Make sure you align your new process across all historical channels for workers to enter your organization. Common talent channel examples include:
Employee requisitions
Temp requisitions
Supplier on-boarding and accounts payable set-up
SOW/Consulting purchase orders

You will also want to think carefully about your evaluation criteria. When determining the appropriate talent channel, consider questions such as:
Length of need? Is this a short-term assignment, defined project, or long-term role?
Is there a clear SOW, or is project loosely defined?
Experience: Is this an entry-level, mid, or senior-level role?
Will it involve managing other workers?
Can the work be done remotely, or must it be on company site?
Will the worker leverage company IP, or are they expected to have external expertise and best practices?

Manage the Risks –
The vision of total talent promises incredible benefits for those organizations confident enough to embark on the journey. The inherent strength of this approach is in its flexibility – instead of forcing every new worker request down the path of traditional employment, we can now open up the doors to many alternative working relationships. However, this flexibility and strength can also introduce risk into the organization if mis-managed.
Most countries have strict rules and regulations defining the differences between an employee and various forms of non-employee workers. How this determination is made varies, and there are significant tax implications and legal penalties if done incorrectly. A globally experienced workforce management partner can help you navigate potential legal minefield safely.
Speaking of engaging flexible workers – don't ruin your chances of success with old-school worker engagement policies. We always encourage our clients to strive towards making their organization a "client of choice" for all categories of workers in the new extended workforce by revisiting policies around:
Payment terms
Indemnification and other contract provisions
Benefits and wellness programs
Compensation strategy
Insurance requirements

Conclusion – Benefits of Extending Your Talent Supply Chain
Extending the talent supply chain beyond traditional temp agencies is a vital component to making your Talent Forward strategy a reality, and radically transforming your workforce. This strategic approach successfully delivers the best workers, at the right time and place for a fair cost – regardless of worker classification or source.
To make this work, you need to develop a comprehensive total talent strategic plan and enlist the help of an enlightened MSP service partner. A progressive company like Hays Talent Solutions, that strives to enable your entire talent supply chain to do what it does best – provide talent to managers who need to get work done.

NOTE: This article is part of a series which will explore key elements of the Talent Forward MSP strategy, along with key insights and best practices from the workforce management experts at Hays Talent Solutions. We've also recently hosted a webinar on this topic.

AUTHOR
Kimball Norup
SVP, Head of growth at Hays Talent Solutions- Americas
With nearly two decades of experience in the human capital management industry. Kimball has experience in structural engineering, publishing entrepreneur, and running a successful strategy consulting firm. He earned a Bachelor of Science degree in Civil Engineering from California Polytechnic State University, San Luis Obispo and an MBA with honours from the University of California, Davis.
Now his expertise is used working cross-functionally with the Hays Talent Solutions global leadership team to build the strategic plan for the expansion of Hays Talent Solutions in the Americas region. Focusing on business growth and client acquisition, activation, retention, and upsell across the region.