null
Leveraging technology and analytics to drive a Talent Forward MSP service
LEVERAGING TECHNOLOGY AND ANALYTICS TO DRIVE A TALENT FORWARD MSP SERVICE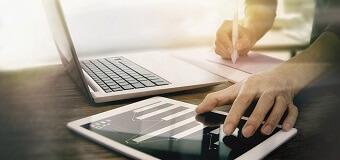 Hays Talent Solutions has been providing workforce solutions globally for over 50 years. All our services are designed to help clients thrive in the increasingly complex world of work. Given that the transformative power of technology is a major driver of change in the workplace, it should come as no surprise that technology and analytics are increasingly important to our service delivery.
Technology-enabled Talent Forward MSP service
At Hays we believe the primary objective of an MSP service provider should be to ensure clients get access to the best talent, in the right time and place, for a fair price – regardless of source, or worker classification. This enabling approach is called our Talent Forward methodology, and it is fundamentally different than the old and outdated command and control model which is still common in the marketplace.
Built on a framework of innovation and delivered with an enlightened strategy, there are four major elements in a Talent Forward MSP service, all designed to work together and provide clients with better access to talent. We've covered the first three in prior articles:
Staffing Supplier Enablement – Building a program where Vendor partners are informed, excited, engaged and committed to delivering the best talent to our clients
Extended Supply Chain – Expanding and optimizing the mix of traditional and alternative talent, including SOW, service providers, and online marketplaces (with compliance and governance)
Direct Sourcing – An outsourced recruiting solution, that leverages our client's brand to build and engage a proprietary talent community, which can then be used to source workers at a significantly lower cost and quicker time to productivity than the traditional staffing suppliers

Today we'll highlight technology and analytics, which constitute the last major building block of a Talent Forward program:
Technology & Analytics – Streamlined process, real-time data capture across the enterprise program, rate card development, benchmarking by market and competitors, Worker availability, robust analytics, and the resulting decision-making insights for a foundation of your technology-enabled service delivery

When deployed in a program environment built around open communication, transparency, and true partnership between a client and its talent supply chain – Talent Forward fulfils the vision of "MSP v3.0". It is an enlightened and future-proof methodology that ensures organizations consistently attract and retain the talent they need in today's challenging talent environment, and tomorrow's.
The transformative power of technology-enabled services
As a leading global MSP service provider, we passionately believe in the power of technology to transform industries and drive growth. Building and maintaining our technology stack represents a significant annual investment in hardware, software, and people. This technology stack is constantly evolving in order to stay ahead of the market and better serve clients. We view this effort as vital to future-proofing our business, and that of our clients. By developing and supporting each stage of our proprietary workforce management lifecycle (plan, source, select, on-board, develop, and depart) we deliver results today, while creating leverage and flexibility for tomorrow.
The dramatic increase in global competition for talent and explosion in new technology has provided many challenges and opportunities for innovation in service delivery. Historically, a Vendor Management System (VMS) or Applicant Tracking Systems (ATS) was used to manage the end-to-end process for bringing new contingent and regular workers into an organization, whereas today they have become the hub around which many additional technology solutions for talent attraction, selection and onboarding can be deployed. In addition to these VMS and ATS systems, it is now very common to also leverage HRIS systems, online staffing solutions, Freelancer Management Systems (FMS), marketplaces, and social media platforms as part of a holistic talent attraction and retention program.
From our pioneering relationships with other market leaders such as LinkedIn and Google to the development of our own proprietary tools, we take our proven recruitment practices and candidate relationship strategies developed over many years and combine them with the best new technology and data science innovations available to ensure we find the very best workers for any given role. This includes significant investments in data science, and Artificial Intelligence – from leveraging bots to automate routine back-office functions, using elastic search, semantic intelligence, ontology to support machine learning applications, and ensuring we have the skills to implement and fully leverage the outputs.
A catalyst for workforce transformation
The world of work is changing rapidly, and fundamentally. From our unique vantage point at the center of this complex talent ecosystem, and with an unmatched record of service servicing a global client base, we are often able to help clients see around strategic corners when it comes to attracting and retaining talent. Leveraging our experience, market insights, and analytics allows us to play the role of catalyst for workforce transformation, helping our client to be agile and responsive to changing talent market conditions.
We like to say we're "in the business of change" – whether it be consulting with a prospect company on developing a workforce vision, to implementing a first-generation program, to bringing in best practices and proven execution support to a mature client program – the workforce management experts at Hays Talent Solutions are often looked upon as change agents and business partners to our program stakeholders. By developing and delivering technology-enabled workforce solutions, we help our clients to gain a distinct competitive advantage and thrive.
Delivering technology-enabled services that work
Our strategic approach is rooted in data-driven consulting fundamentals. Before we design a new workforce management program we seek first to understand the complete "as is" situation. Through a proprietary suite of diagnostic tools, we gain clarity around the current situation, the desired future state, and any obstacles in between. Next, we leverage analytics along with our expertise and market insights to create a solution for the addressable gaps. Finally, as a key component of implementation we have a hyper-focus on change management and driving program adoption to meet the program objectives.
This proven methodology around innovation and solution design/delivery enables us to quickly solution and implement workforce management programs that work.
NOTE: This article is part of a series which will explore key elements of the Talent Forward MSP strategy, along with key insights and best practices from the workforce management experts at Hays Talent Solutions.
AUTHOR
Kimball Norup
SVP, Head of growth at Hays Talent Solutions- Americas
With nearly two decades of experience in the human capital management industry. Kimball has experience in structural engineering, publishing entrepreneur, and running a successful strategy consulting firm. He earned a Bachelor of Science degree in Civil Engineering from California Polytechnic State University, San Luis Obispo and an MBA with honours from the University of California, Davis.

Now his expertise is used working cross-functionally with the Hays Talent Solutions global leadership team to build the strategic plan for the expansion of Hays Talent Solutions in the Americas region. Focusing on business growth and client acquisition, activation, retention, and upsell across the region.