Content_GLO_HTS_BlogTitle
Asset Publisher
WHERE DOES "BUY-IN" NEED TO COME FROM FOR TOTAL TALENT MANAGEMENT?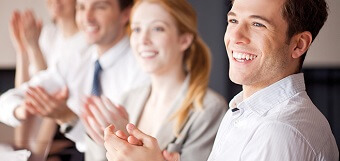 Total talent management (TTM) is a talent management model combining all hiring processes - whether that's for full time employees or contingent workers - into a single pipeline, giving a holistic view of the workforce, current or expected needs, and the available talent pool. It's an approach that has seen rapid adoption in Europe, but is yet to be widespread in North America. Commonly run using a third-party solution provider, TTM can also be managed internally if you have the necessary resources. If your organization is contemplating this innovative approach or is ready to get started, who do you need to bring into the process to ensure a successful program?
1. HR and procurement need to be on the same page
The motivation and planning for total talent management is usually driven by leaders in talent acquisition or procurement. Permanent recruitment is usually managed by HR, while procurement typically oversees contingent workforce contracts so to bring both these aspects of your workforce under the same program requires leaders from both functions to work together. We sometimes see it come from higher up, such as the COO, but in general one of these two business lines is the internal champion. Regardless of who initially broaches the topic, HR and procurement must be aligned to make this work. Most often we see procurement support TTM through sourcing, governance and contracts, while HR takes the lead on strategy.
2. Get the C-suite on board
Once HR and procurement are aligned and have developed a suggested strategy, it's time to present the business case to company leaders. TTM is a complicated process and it needs to be supported from the top down. Demonstrate the necessity of TTM by using statistics from your organization and industry commentators such as Staffing Industry Analysts (SIA) to show that talent supply and demand are shifting. Many service providers can provide case studies that illustrate the different approaches and outcomes, which you can use in your business case to estimate cost savings.
Experienced contingent workforce practitioners know that implementing any broad recruitment outsourcing program, such as an MSP or RPO, requires a lot of buy-in from company leaders, and TTM can be considerably bigger than either of those. While many companies build on or combine their existing outsourcing to develop their TTM strategy, some companies are skipping these early stage programs. One of our clients went from no outsourcing to 100 percent outsourced recruitment in one RFP. How did they do it? With a clear goal, united purpose, strong executive support, and solid business case.
3. Align your key stakeholders
As you move forward with total talent management, you will need to get your key stakeholders on your side. Communicate with your internal clients – the department heads who will need to lead change within their functions. If your organization already has a limited supplier list then their adjustment will be straightforward. However, if your company is using dozens or even hundreds of suppliers then you will need these change managers to understand and execute the new program to improve rollout and reduce rogue usage.
You will also need support from functions such as IT and marketing. Both functions are critical for roll out and success of any program. IT support will be required for integrating tech platforms, while marketing will need to develop employer messaging that is consistent across the whole business. Involve them early to ensure your program has the resources needed to succeed.
4. Engage the frontline managers
HR and procurement are aligned on strategy, you have the C-suite on board, your change managers are engaged, and IT and marketing are ready to support roll out. Next you need to win over your front-line managers. For your TTM program to be successful they need to understand the why, not just the what and how.
Communications has to come from top down and should explain the reason for the new process. Don't expect 100 percent compliance immediately. There will always be a few people who don't want to change, and you need to identify those people ahead of time and support them through the change. You're breaking habits made over many years so will likely see rogue hiring for some time. Set realistic expectations for the first year of your program, and set checkpoints to assess and evaluate progress so you can correct and retrain as needed. You can accelerate program adoption by pre-identifying a few innovative managers who are open to change and challenging the status-quo. Getting these early-adopters engaged and showing results can go a long way towards promoting and growing a TTM program.
5. Keep your candidates in the loop
Finally, don't forget to educate your candidates. One advantage of total talent management is promoting your employer brand consistently to all target audiences. However, your candidates could be confused about applying for a full time job and being asked about contract work, or vice versa. Let them know you're your new approach means all categories of jobs are open to them so it's not a surprise.
Bonus: Make the most of your provider's expertise
Your third party solution provider can be your partner in all these stages. They bring considerable experience with program implementation and improvement. From strategy development, to legal support and advice, to the right technology, to case studies and best practices from around the world, make the most of this valuable resource.
Is your recruitment and contingent hiring process efficient? Take our diagnostic to identify areas of improvement and to help develop your next workforce strategy.
AUTHOR
Kimball Norup
SVP, Head of growth at Hays Talent Solutions- Americas
With nearly two decades of experience in the human capital management industry. Kimball has experience in structural engineering, publishing entrepreneur, and running a successful strategy consulting firm. He earned a Bachelor of Science degree in Civil Engineering from California Polytechnic State University, San Luis Obispo and an MBA with honours from the University of California, Davis.

Now his expertise is used working cross-functionally with the Hays Talent Solutions global leadership team to build the strategic plan for the expansion of Hays Talent Solutions in the Americas region. Focusing on business growth and client acquisition, activation, retention, and upsell across the region.