null
Hays Talent Solutions named RPO Talent Solutions Company of the Year at the annual TIARA Recruitment Awards in Australia
HAYS TALENT SOLUTIONS NAMED RPO TALENT SOLUTIONS COMPANY OF THE YEAR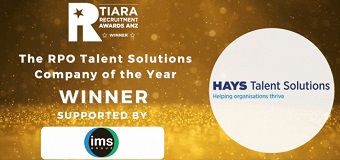 We're delighted to announce that Hays Talent Solutions was awarded the IMS Group RPO Talent Solutions Company of the Year at the annual TIARA Recruitment Awards in Australia.
Hosted by TALiNT Partners, the TIARAs recognise excellence, innovation and growth in the recruitment sector across 16 award categories. The TIARA RPO Talent Solutions award recognises best practice and excellence in talent acquisition service delivery.
When announcing the award, the judges praised our impressive entry, results and testimonials. They recognised our demonstrated strength in innovation and ability to build long-term successful partnerships with our clients.
Commenting on our award, Shane Little, Managing Director of Hays Talent Solutions in ANZ said,
"At Hays Talent Solutions, we anticipate the emerging trends in workforce strategy and help our customers thrive. We consistently push the boundaries of customer experience, market insight and digital innovation and the TIARA award is great recognition for the pride our people have in delivering a great client and candidate experience"