BLOG

null
6 Key metrics for your contingent workforce program
KEY METRICS FOR YOUR CONTINGENT WORKFORCE MANAGED SERVICES PROGRAM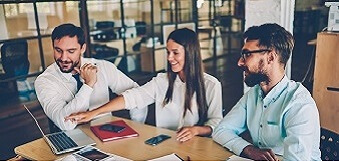 Regardless of whether you have oversight over a mature contingent workforce program, or you've just engaged a managed services partner (often referred to as an MSP) to implement a new program, or your program is somewhere in between, you've likely given some thought as to how you're ultimately going to measure success. As a leading provider of MSP, RPO, CMO, SOW, and Direct Sourcing solutions to over 120 global clients Hays Talent Solutions has developed a broad experience base on what program success should look like, and how to measure it.
As you examine the performance of your contingent workforce managed service program it's important to know exactly what it is you should be measuring and the factors that drive a successful program. It is very common for organizations to make the mistake of evaluating their contingent workforce program based solely on cost savings and speed, but in today's era of talent scarcity those metrics only tell part of the story.
Key MSP Program Metrics
1. Fill Rate
Crucial to the talent attraction and engagement process, fill rate is the ratio of contingent job orders received by suppliers against job orders filled each month. Fill rate is vital because it is a leading indicator to whether a program has a chance to be effective, or not. Low rates can indicate bad process, rate card issues, inept suppliers, and many other fundamental issues with a program.
When evaluating time-to-fill it's also important to look deeper to determine if there are other factors that could be lengthening your cycle time—like if your hiring managers are slow to act once they receive candidates. When reviewing your program, make sure to isolate hiring managers response time when looking at critical metrics like time-to-fill. By doing so, can you determine just how fast your suppliers are moving.
2. CV to Vacancy and CV to Interview Rate
These metrics are also important to consider as they tend to be driven by the behavior your MSP service partner encourages with the staffing supply chain. If your MSP serves as a gatekeeper between the hiring manager and the supplier, you can end up with a low CV to vacancy ratio because the supplier doesn't know what the manager really needs or wants, so they don't submit anyone. Or, a supplier may submit an unreasonable number of CVs just to see what sticks. Collaborative hiring starts with the job order (sometimes referred to as a job requisition, or "req"), so it is important for the manager to work closely with the MSP and supplier order to understand what's required for the job. This also shortens other metrics like time-to-hire since it minimizes miscommunication and wasted effort.
The same can be said for your CV-to-interview rate as well as CV-to-placements rate. It's all about creating an efficient process that works for suppliers and hiring managers, while maintaining existing process & policies. When candidates apply, they expect a quick response, so have a process in place to ensure you respond promptly to everyone. It will improve your employer brand and overall candidate experience - keeping the people you want from looking elsewhere.
3. Time to Shortlist-> Offer-> Hire
Time-to-hire tracks how fast you move as soon as you've made contact with the right potential candidate(s). In contrast to time-to-fill metrics, this tracks the number of days between the posting of a job and getting an offer accepted. Measuring this throughput, or talent velocity, metric allows for visibility into how quickly the program is delivering value. For example, if the CV to position ratio is high/low, it may indicate a poor intake session by the program team. If the CV to interview ratio is high/low, it can also provide insight into this. If the CV to offer ratio is off, it can point to a shortcoming in the supply chain or in the manager's selection criteria. If the CV to hire ratio is off, it can point to a lack of adequate qualification of the candidate's interest in either the position or the company.
Process efficiencies are important when measuring the overall success of your managed services program. Ask yourself things like: Are the suppliers and managers working together within the defined program best practices and policies? Is that process working as intended, or is it broken? Are the hiring managers and suppliers finding it difficult to work through that process? If so, that's going to encourage people to circumvent the program to everyone's detriment. It is a good idea to report on, and analyze, your workflows to determine how long it takes to set up interviews, schedule testing, get background checks completed, and decide how many days it takes for each stage. This exercise will help you to find creative ways to streamline the process.
4. Satisfaction Surveys
Most companies are adept at measuring user satisfaction for their internal programs. For contingent workforce management programs this typically starts and ends with hiring managers. However, in today's tight talent market, it is imperative to measure not only hiring manager satisfaction but also supplier satisfaction and perhaps most importantly, candidate satisfaction to ensure a quality program. It is a harsh marketplace reality that scarce talent has many choices of where to work. If your company is not viewed as a client-of-choice, and your program is cumbersome to navigate, then talent (and the suppliers who help deliver them) will choose to go elsewhere.
Hays has pioneered a Talent Forward approach that helps ensure the client receives the right talent, at the right time and place, for a fair price. Core to making this strategy work is for all parties (client, MSP provider, hiring manager, supplier partner, and contractor) to be treated fairly and gain benefit. In a talent forward approach, putting the lens on hard to find talent ensures a solid attraction into the program and a high number of successful placements.. By leveraging a Net Promoter Score philosophy across all parties, an MSP program office can make sure that the focus is always on overall satisfaction to ensure that managers are satisfied (they've received the best candidate and completed their project on time and budget) and contractors are happy (they've been paid fairly for working on an exciting project).
5. Adherence to Supplier Rate Cards
Many mature programs have adopted a rate card methodology to ensure standardized rates across the company, and drive parity amongst suppliers. Most program managers are constantly evaluating suppliers to determine which are the strongest performers, and which need to improve their performance or be removed from the program supply chain. Rate cards can help in this evaluation.
Consider things like supply of qualified candidates, filled roles, and response rate. Are the suppliers adhering to rate cards, or are they submitting above the max consistently? Is this consistent across all suppliers, or just one? If all suppliers, this can indicate it's time to refresh the rate cards as the market changes quickly. It's also important to align the rate card strategy to the level and quality of candidate the company wants for the program. If a company decides they want to pay at the 55th percentile, but claim they are focused on quality, it's time to question. However, if a company is paying in the 99th percentile on a skillset that is readily available and not scarce, there's a good chance they're overpaying and there are some savings opportunities.
6. Compliance Audit Results
This should be a simple pass/fail measurement, as being 100% compliant is often considered to be the "minimal viable" state for all suppliers in a contingent workforce managed services program. The amount of risk that can be avoided by simply ensuring the proper background screening and forms have been signed, collected, reviewed and ensuring the candidate/worker is aware is too easy of a task to get wrong. Ensuring suppliers are kept up-to-date on any changes is ultimately the responsibility of the program office.
What all that means for you
It's vital that your team establishes a foundational set of metrics to scale the success of what your contingent workforce program, and your MSP services partner can deliver. As your program matures , consider revisiting what your original objectives were, and evaluate if changing circumstances have created an opportunity to review and update your strategy.. While these metrics are a great start it's important to track trends over time. You'll need the basics in order to monitor expenditure within a resourcing budget and plan for future needs.
Understanding this is difficult to measure and track, Hays Talent Solutions has developed a complimentary resourcing diagnostic tool, that quickly captures your views around your current solution & model, and provides you with a roadmap to influence and adapt the future.
AUTHOR
Kimball Norup
SVP, Head of Growth at Hays Talent Solutions- Americas
With nearly two decades of experience in the human capital management industry. Kimball has experience in structural engineering, publishing entrepreneur, and running a successful strategy consulting firm. He earned a Bachelor of Science degree in Civil Engineering from California Polytechnic State University, San Luis Obispo and an MBA with honours from the University of California, Davis.

Now his expertise is used working cross-functionally with the Hays Talent Solutions global leadership team to build the strategic plan for the expansion of Hays Talent Solutions in the Americas region. Focusing on business growth and client acquisition, activation, retention, and upsell across the region.