RECRUITMENT PROCESS OUTSOURCING FREQUENTLY ASKED QUESTIONS (FAQ)
Do you have questions about recruitment process outsourcing? Read all frequently asked questions about RPO here:
What is a Recruitment Process Outsourcing (RPO)?
Recruitment Process Outsourcing (RPO) is where all, or part, of your recruitment activities are outsourced to an external provider. This sees them act as an extension of your internal recruitment department for all or some of your jobs, typically based on site with you and working under your brand. An RPO could cover: 
Workforce planning and market forecasting
Talent attraction and candidate sourcing
Screening, assessment and selection
Interview co-ordination
Offer management
Compliance and background checks
Recruitment and onboarding
Metrics and reporting
Technology management

How does RPO work?
RPO will see a combination of dedicated experts, technology, best practice processes and analytics embed within your organisation as an extension of your own function. They'll align with your hiring managers, and work with you to forecast future demand, optimise sourcing, assessment and onboarding.
Leveraging automated and optimised tools and processes, alongside deep expertise, market insight and actionable analytics, they'll support you to really transform how your business access the skills you need. Making sure you and your business are always at the cutting edge of recruitment.
An RPO may also offer offshoring options to help you reduce your costs and provide you with complete flexibility and scalability to better meet peaks and troughs in demand without additional headcount, all whilst reducing time to hire, improving retention and quality of hire, for better ROI.
What are the benefits of outsourcing your recruitment?
Outsourcing your recruitment offers many benefits, including: scalability, flexibility, cost savings, improved access to the skills you need, optimised processes to improve hiring manager and candidate experience and reduce time to hire, talent pools to build your future talent pipeline and increased retention.
What's the difference between recruitment process outsourcing and using a recruitment company?
Where recruitment and staffing agencies focus on sourcing candidates, RPO providers design and deliver across the full recruitment process. From workforce planning right through to onboarding and retention, an RPO will work as a direct extension to your existing in-house recruitment team.
Your RPO should recommend, implement and run the latest in talent acquisition technology. Support you to develop optimised processes for things like taking in requirements from hiring managers, supporting your business in making informed decisions on assessing candidates and ensuring everything is ready for your new hires on day one.
More often than not an RPO provider will have some staff onsite in your offices. They'll have people operating on your systems and kit, with company email addresses, so they truly embed and embody your culture.
How to select the right RPO solution for my organisation?
Every organisation's journey to externalising their resourcing is different, and no solution ever looks the same. There are seven key areas you'll need to review to help you decide what is best for you and your organisation; Objectives, geography, types of resources, process, delivery methods, technology and pricing structure.
Objectives
What are the primary outputs you're looking for from the service? What is the problem you are seeking to resolve?



Geography
How strategically important is the location? Is there sufficient sustained volume of hiring to justify outsourcing? Wil the hiring managers use the service enough?


Types of resources
RPOs can be set up in a way that can support most of your permanent hiring, but sometimes it makes sense to maintain a different delivery model, so its worth considering the different options.
Process
Consider what infrastructure you have in place already and what is the primary driver behind exploring outsourcing.



Delivery model
You must consider the type of role/resource you are recruiting/managing against two criterias; criticality and regularity to help with deciding which delivery model is right for you. You will also want to consider whether you prefer your RPO team onsite or offsite, local, offshore or hybrid.
Technology
This is essential to provide visibility and control of the process which will help scope future decisions. Consider the scope of the project, do you need the same solution globally? Do you want one provider for all to deliver cost and process efficiencies? Who will buy the technology?
Pricing structure
Ensure this is aligned to your most important objective.







How much does an RPO cost?
Unfortunately, there is no easy answer to this question. It depends on the size and scale of the programme and the model used to best meet your objectives. Typically, they'll be able to provide savings compared to your current talent acquisition spend thanks to the efficiencies they are able to derive from expertise and volume developed over years of experience.
There are three main ways an RPO is priced, a fixed fee paid periodically, a transactional fee for each hire or performance based. For example, linked to cost savings or key pre-agreed KPIs.
However, if you contact an RPO provider, they should be able to provide you with an indication based on your answers to some initial questions.
Can you integrate with our ATS?
We've worked with a number of applicant tracking systems over the years, and so we're experienced at optimising and delivering RPO services across a variety of different tools and systems. Part of the expertise we offer is supporting you in the development and management of your recruitment technology to make the sourcing, processing and management of your employees easy.  
I only need seasonal or temporary recruiting assistance, will an RPO work for me?
One of the many benefits of RPO is the flexibility it provides you, as you have no headcount commitments. Also, we've developed a solution, RPO Essentials, which allows businesses of all sizes to enjoy the expertise and benefits of Recruitment Process Outsourcing (RPO) without the typical time or resource requirements, which is suitable for short-term requirements.
What does the typical RPO procurement process look like?
Like any business process outsourcing decision RPO buying processes can take time. Smaller project based RPO options can be much quicker, but large-scale end to end RPO solution procurement processes can take up to 12 months due to the increasing complex nature as organisations seek to take more multi-country deals into consideration.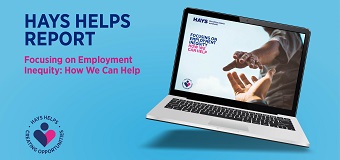 Focusing on Employment Inequity: How We Can Help
This report 'Focusing on Employment Inequity: How We Can Help' highlights the employability challenges faced by many members of different sectors of society and indicates the areas that can be supported by our Helping for your tomorrow actions.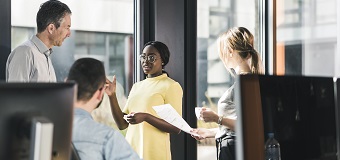 The importance of EVP and the next generation of employees
It is essential companies stand out from the competition when looking to engage new hires. Fail to differentiate yourself and you will not attract the best candidates.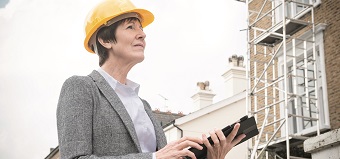 Case study | Manufacturing | RPO


Based on our "Find and Engage" methodology to standardise processes and open channels not previously available.