HAYS HELPS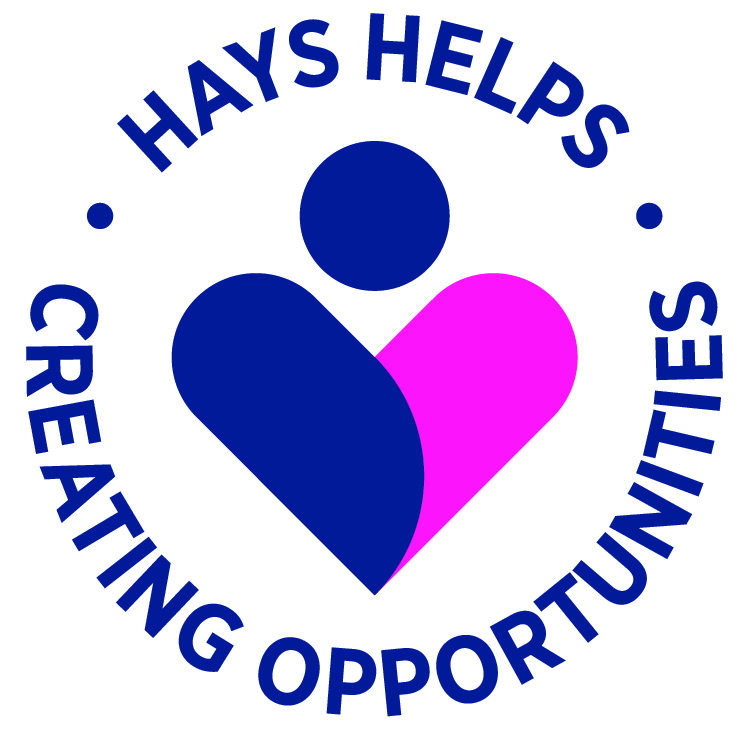 Our Purpose is that 'We benefit society by helping people succeed and enabling organisations to thrive, creating opportunities and improving lives'.
Why it matters
People fuel all business progress. The right person in the right role can change lives and transform organisations for the better. However, we realise that not everyone has the same opportunities to enter the workforce and, once in employment, succeed.
Organisations are in a unique and privileged position to make a difference, harnessing the skills and resources they have to 'give back and pass forward'. At Hays, we want to use our expertise to improve the employability of people who may not have started with the same opportunities as others.
By helping people to better realise their potential, unlock new opportunities and enhance their prospects, individuals can thrive. Organisations also benefit from supporting, recruiting and retaining a diverse range of talent. Research shows that teams consisting of varied backgrounds and cultures 'work smarter', offering new insights and innovative solutions.
Our commitment to communities
For many years, Hays' employees across the globe have been giving their time and raising funds to help good causes and support people in the communities in which we operate.
The Hays Help programme is the next stage in our commitment to people. Hays Helps brings a stronger focus to the excellent work already undertaken, harnessing and aligning our collective efforts with our Purpose. Working collectively across all areas of a company, with the resources and skills of all stakeholders, offers greater possibility to make a difference than when working alone.
Giving power to our people
Recognising the passion of our teams, and the important role our employees play in helping to realise Hays Helps, we have empowered every Hays' employee to take one paid Volunteering Day each year to help with causes aligned to Hays Helps. This equates to a possible 10,000+ days of time per year that Hays is giving back to the societies in which we are based.
To support communities across all of our regions, we have linked our support to four of the UN Sustainable Development Goals (UN SDGs), which are globally recognised as key areas to address. These are Quality Education, Gender Equality, Decent Work and Reducing Inequalities.
The seven areas of society in which we will focus our volunteering and charitable efforts are:
Workers living with a disability – facilitating a level playing field for those living with a disability when it comes to creating opportunities in the world of work.
Ethnic minorities – improving the working opportunities for ethnic minorities in the workplace
Members of LGBTQ+ communities – supporting people in these in these communities to overcome prejudice and bias and improve their opportunities in the world of work
Underutilised talent – identify and develop the pool of talent that may not be considered in the workplace for a range of reasons e.g. bringing talent out of poverty, supporting carers in their careers
The mature age workforce – supporting this demographic to either upskill/reskill to stay in the workforce or to re-enter the workforce where there is a skills shortage
Youth engagement – working across the education sector to support and build skills across all levels from school to trainees
The environment – working to improve the environment in the communities in which we operate and create a more sustainable future

These sectors of society have been chosen because it is evidenced that their members find it harder to get into the workforce and to progress in their careers and that, as a result, companies and economies miss out on the benefit of their talent. 
We believe that by helping those less advantaged into the workplace, we are not only improving the economies in which we operate, but the people we help are potentially our future clients, employees, suppliers and shareholders and the consumers of our services who will contribute to our future business success. By operating sustainably and responsibly, we also protect the communities in which we are based and our environment for future Hays' generations. 
"The 'Hays Helps' programme has been established to focus and align all of Hays' global volunteering and fund raising activities towards the aim of ensuring we are supporting the communities and societies we serve by both lifting the employability of people who may not have the same opportunities as others and protecting the environments where we are based in order to create a more sustainable future world of work."
Alistair Cox, Hays CEO
Hays helps people succeed, and organisations thrive.