BLOG

null
Contractor Value Propositions - the essential element you're over-looking in your recruitment strategy
CONTRACTOR VALUE PROPOSITIONS - THE ESSENTIAL ELEMENT YOU'RE OVER-LOOKING IN YOUR RECRUITMENT STRATEGY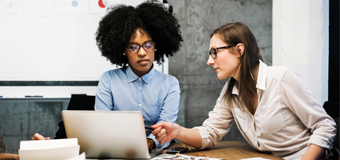 There is one common theme among many leading organizations when it comes to their Contingent Labor strategies. It is without fail that we find most are having trouble navigating the challenging talent markets they operate in. Because finding skilled workers is such a challenge, they rely on staffing partners to find talent for them.
Adding more supplier partners is always the easiest answer when the challenges of filling roles within the time, skill, and cost requirements becomes too big. The logic is, adding more suppliers to their supply chain will increase the breadth and depth of talent access within their markets.
Unfortunately, this approach tends to have a negative impact on the business in the form of extended time to productivity, increased cost, and overall reduction of the quality of candidates submitted by suppliers. In addition, it negatively impacts their employer reputation in the market.
There is a more significant long-term impact as well. This also tends to manifest in delayed project completion, often on products or services to market, decreased employee morale (as teams must pick up slack while waiting for support), diminished hiring manager adoption of the contingent program, and increased "rogue" spend.
Because staffing partners are the ones finding work for the talent, the workers are more loyal to the staffing firm rather than the organization who has the work! This essentially means that the supplier "owns" the talent and can influence where the talent works. Staffing firms will often send their best candidates to the clients who they have exclusive agreements with and where competition is low and rates are excessive fair.
Think about it, why would a staffing firm leverage their brand, resources, and best candidates for an opportunity they are less likely to be successful on? Their efforts and best candidates will be directed elsewhere.
Interestingly, some of the best talent out there, is "Self-Employed" and prefer not to work through staffing firms at all! Additionally, most project-based workers are looking to provide work for organizations who engage them directly and offer a strong Contractor Value Proposition (CVP).
When you consider that a worker interested in working for your company in any capacity is proven to be 10% cheaper than one who needs to be "sold" on the opportunity, plus the cost of a recruited mark up, you stand to save a significant amount of money.
Strategic organizations are beginning to recognize this dynamic and are changing their approach. They've identified a new strategy for attracting talent in this challenging market. By creating a Contractor Value Proposition, the best talent seeks out the organization, not the other way around… allowing them to engage the best talent, at a reasonable price.
While that's a great start, it's only half of the solution. Putting together a Contractor Value Proposition is the easy piece to the talent mismatch puzzle. The next critical step is engaging the talent market and leveraging the CVP! That requires several software tools, strategy, experience and insights.
With a well-crafted CVP, paired with expert marketing and recruiting teams who leverage best in class technology, candidate flow will increase and allow time for true candidate engagement. A successful recruitment strategy starts long before there is a job to be filled. Finding the right talent and engaging them to build trust in the candidate/recruiter relationship is the "magic sauce". When this happens, the talent you want will already be bought in on the organization, opportunities, and the recruiter. They'll choose your role, and your organization, every time.
This approach requires it heavy investment in technology, building out a value proposition and an expert team of marketers and recruiters. But it can be done! And when it has been done, the results have been transformational.
AUTHOR
Craig Huntley
Director of Growth, Americas
Craig brings over five years of Talent Management experience to Hays Talent Solutions. He is passionate about enabling talent strategies that allow organizations to execute on their business objectives and strategies. Sitting at the intersection of Sales & Marketing he's focusing on growing the Talent Solutions business in the Americas by creating wholistic talent solutions for industry leading organizations.