BLOG

null
Hays ranked as a leader for its MSP services by Everest Group
HAYS RANKED AS A LEADER FOR ITS MSP SERVICES BY EVEREST GROUP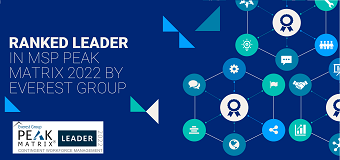 The Everest Group
 PEAK matrix assesses the relative market success and overall capability of service providers. All service providers are evaluated against their market impact, value delivered, vision and capabilities, innovation and investment and their delivery footprint. Twenty-four organisations were ranked globally in this year's matrix, from aspirants to top leaders. For its MSP services, Hays is ranked among the top eight organisations globally.
Everest Group attributed Hays' ranking to its market knowledge and flexibility, as well as its strong technology ecosystem of proprietary tools and partnerships. Everest also highlighted Hays' recent investment to enhance its SOW adoption and capabilities along the entire maturity curve.
Matthew Dickason, CEO of Enterprise Solutions at Hays
, emphasizes the teamwork behind the company's success: "
It's a great achievement to be recognised as leader in this year's CWM/MSP PEAK Matrix. We work tirelessly to be a leadership partner to our clients and provide them with exemplary service. Our success is testament to the hard work and dedication of our teams across the globe and their relentless personification of our values to prepare for the future and enable change for all our clients. Additionally, our ranking as major contender for our SOW services demonstrates our continued commitment to improve our capabilities, always going beyond the expected, now and in the future. We look forward to continuing to build on our partnerships and help support our clients in working for their tomorrow.
"
K
rishna Charan, Practice Director at Everest Group
, comments on this year's ranking: "
Hays continues to strengthen its CWM offerings supported by its expanding global delivery capabilities, domain expertise, and diversified portfolio across industries. Its continued investments in enhancing its direct sourcing solution and its technology capabilities including analytics and proprietary Vendor Management System (VMS) have contributed to its positioning as a Leader on the Everest Group's CWM/MSP PEAK Matrix® 2022.
"