null
Hays Talent Solutions crowned winner of TIARA Employer Brand Award 2021 by TALiNT Partners
HAYS TALENT SOLUTIONS CROWNED WINNER OF TIARA EMPLOYER BRAND AWARD 2021 BY TALINT PARTNERS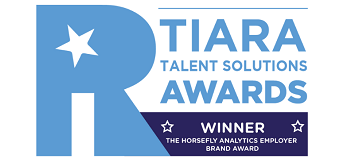 Hays Talent Solutions, a global talent solutions provider, was presented the "Best Employer Brand" award sponsored by Horsefly Analytics at the annual TIARA Talent Solutions European awards hosted by TALiNT Partners.
The TIARA Talent Solutions awards puts a spotlight on the RPO, MSP and Talent Solutions providers enabling excellence in talent acquisition and highlighting the important role they play in improving employers' recruitment and productivity.
Hays Talent Solutions, part of the world's leading specialist recruitment business, is a globally renowned market leader in contingent and permanent workforce solutions that helps people succeed and organisations thrive and has consistently pushed the boundaries of customer experience, market insight and digital innovation.
Hays Talent Solutions impressed the judges with an effective and well thought through content strategy which was delivered effectively across multiple channels; it was also an approach which had a highly positive effect on improving D&I.
Commenting on the success, Sara Thompson, Service Delivery Director of Hays Talent Solutions: "We are absolutely delighted to have been recognised at the Talent Partners TIARA awards for our work in Diversity and Inclusion and Employer Branding, which exemplifies true partnership with our fantastic client. This award celebrates distinction in elevating a client's employer brand to have a measurable impact on their talent strategy and our success is testament to the hard work and dedication of the whole team, with special mention to Mark Cull."
Hays Talent Solutions were also named finalists in 4 additional awards in the this year´s TIARA Talent Solutions European Awards including Best Use of Technology, Best Early Career Initiative, Best Candidate Experience and Long Term Partnership award.
To find out more about the awards and all the winners visit click here.
About Hays Talent Solutions
Hays Talent Solutions creates and delivers workforce solutions that helps people succeed and enables organisations to thrive. With a comprehensive suite of services and a wealth of expertise in providing permanent and contingent solutions to leading organisations around the world, Hays Talent Solutions delivers better, faster and more cost-effective access to talent that adapts as markets and workforce strategies evolve.
To discuss how we could help your organisation thrive, get in touch and speak to one of our experts.