BLOG

null
Hays Talent Solutions ranked as a leader and major contender for its RPO services by Everest Group
HAYS TALENT SOLUTIONS RANKED AS A LEADER AND MAJOR CONTENDER FOR ITS RPO SERVICES BY EVEREST GROUP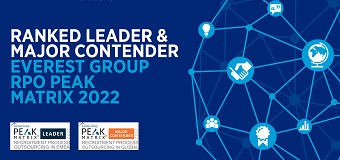 - Ranked Leader (EMEA) and Major Contender (global) for RPO services for 2022
- Recognised for its traction in Total Talent Acquisition  
Hays Talent Solutions today announced its leading position in the annual PEAK Matrix for RPO (Recruitment Process Outsourcing) services for 2022 by the Everest Group.
The Everest Group PEAK matrix assesses the relative market success and overall capability of service providers. All service providers are evaluated against their market impact, value delivered, vision and capabilities, innovation and investment and their delivery footprint. Thirty-six organisations were ranked globally in this year's matrix, and twenty-three in EMEA, from aspirants to top leaders. Hays Talent Solutions is ranked among the top six organisations in EMEA, as well as being a major contender for its global RPO services.
Everest Group attributed Hays Talent Solutions' rankings to its strong technology ecosystem of proprietary tools and partnerships, as well as its integrated talent acquisition platform. Everest Group also noted Hays Talent Solutions' significant CWM and VMS capabilities which, coupled with its wide coverage, have helped it to achieve initial traction in the TTA space.
Matthew Dickason, Managing Director of Hays Talent Solutions, emphasises the teamwork behind the company's success: "It's a great achievement to be recognised as major contender and leader in this year's RPO PEAK Matrix. We work tirelessly to provide our clients with exemplary service and continuously strengthen our partnerships. Our success is testament to the hard work and dedication of our teams across the globe and their relentless personification of our values to prepare for the future and enable change for all our clients. Always going beyond the expected, now and in the future. We look forward to continuing to build on our partnerships, and help support our clients' success."
Aniruddha Kulkarni, Practice Director at Everest Group comments on this year's ranking; "Hays Talent Solutions has created a compelling value proposition for clients through its pedigree in sourcing for high skill professional roles, focus on Total Talent Acquisition (TTA), and its integrated technology platform. Its proven expertise of serving clients of all sizes and across major industries across the UK and continental Europe has helped it position as a Major Contender on Everest Group's Recruitment Process Outsourcing (RPO) Services PEAK Matrix® Assessment 2022 - Global as well as a Leader on Everest Group's Recruitment Process Outsourcing (RPO) Services PEAK Matrix® Assessment 2022 - EMEA."
About Hays Talent Solutions
Hays Talent Solutions creates and delivers workforce solutions that helps people succeed and enables organisations to thrive. With a comprehensive suite of services and a wealth of expertise in providing human capital advice, permanent and contingent solutions to leading organisations around the world, Hays Talent Solutions delivers insight driven services that provide clients with a competitive advantage in accessing and securing talent to deliver to their business objectives.
To discuss how we could help your organisation thrive, get in touch and speak to one of our experts.