BLOG

null
Hays Talent Solutions ranked as a leader for its MSP services by Everest Group
HAYS TALENT SOLUTIONS RANKED AS A LEADER FOR ITS MSP SERVICES BY EVEREST GROUP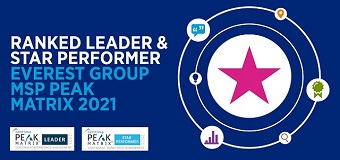 - Ranked Leader and Star Performer for MSP services for 2021
- Identified as a major contender for SOW services for the fourth consecutive year
- Recognised for its traction in Total Talent Acquisition
Hays Talent Solutions today announced its leading position in the annual PEAK Matrix for CWM (Contingent Workforce Management)/ MSP (Managed Service Provider) services for 2021 by the Everest Group.
The Everest Group PEAK matrix assesses the relative market success and overall capability of service providers. All service providers are evaluated against their market impact, value delivered, vision and capabilities, innovation and investment and their delivery footprint. Twenty-five organisations were ranked in this year's matrix, from aspirants to top leaders, with Hays Talent Solutions being ranked amongst the top eight organisations, and one of only six firms identified as a 'star performer' for its MSP services. Hays Talent Solutions has also been ranked as a major contender for its SOW and services procurement services for the fourth consecutive year.
Everest Group attributed Hays Talent Solutions' ranking to its strong technology ecosystem, as well as its capabilities in Services Procurement coupled with its RPO coverage, helping it achieve traction in the Total Talent Acquisition (TTA) space. Everest Group also make note of the innovative engagement models Hays Talent Solutions offers and highlights its good understanding of the clients' business and relationship management to enable its clients to achieve their strategic objectives.
Matthew Dickason, Managing Director of Hays Talent Solutions, credits the team with the company's success and goes on to say "it is a real achievement to be recognised as a leader and a star performer in this year's MSP PEAK matrix, especially during 2020 when clients have needed strong partnership and exemplary service the most. Our success is testament to the hard work and dedication of our teams across the globe and their relentless personification of our values to prepare for the future and enable change for all our clients. Always going beyond the expected, now and in the future. We look forward to continuing to build on our partnerships, help our clients adapt to the new world of work and supporting their future success".
Arkadev "Arko" Basak, Research Vice President at Everest Group comments on this year's ranking; "Hays Talent Solutions' progressive investments in strengthening its CWM/MSP offerings helped it stay resilient in a difficult year and resulted in its positioning as a Leader and Star Performer on the Everest Group CWM/MSP PEAK Matrix® 2021. Its total talent capabilities, ongoing tech stack integration initiative, and flexible engagement models position it well to serve diverse client needs".
About Hays Talent Solutions
Hays Talent Solutions creates and delivers workforce solutions that helps people succeed and enables organisations to thrive. With a comprehensive suite of services and a wealth of expertise in providing permanent and contingent solutions to leading organisations around the world, Hays Talent Solutions delivers better, faster and more cost-effective access to talent that adapts as markets and workforce strategies evolve.
To discuss how we could help your organisation thrive, get in touch and speak to one of our experts.