BLOG

null
'If we are to transform the future...we must rethink education' Audrey Azoulay
'IF WE ARE TO TRANSFORM THE FUTURE...WE MUST RETHINK EDUCATION' - AUDREY AZOULAY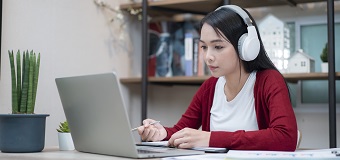 24th January marks the fourth International Day of Education.
The theme for 2022 is 'Changing Course, Transforming Education', highlighting the transformations necessary to realise 'everyone's fundamental right to education' and the role that learning will play in building a more sustainable, inclusive and peaceful future.
Education should be a primary concern for organisations eager to thrive in the new world of work.
A skills-supply mismatch is being magnified by the rapid pace of innovation. As technology permeates an increasing number of roles, there is a widespread need to re-educate and upskill teams to tackle talent shortages.
With average life expectancy rising, the workforce of tomorrow is predicted to be in employment for longer than ever before. Opportunities for continuous learning and development will play a crucial role in keeping staff engaged, productive and receptive to change.
The pandemic has had a devastating impact on the education of young people around the world. The sudden shift to remote learning has exacerbated opportunity and aspiration gaps. Urgent action is necessary to mitigate fears of a 'lost generation'.
With all eyes on education, Jen Schneider, Solutions Director of Early Careers at Hays Talent Solutions, reflects on the collaborative role educators and organisations must play in preparing the next generation for the world of work.
What are some of the most frequent skills gaps you see amongst those new to the employment market?
The growing skills gap is a critical business concern for all organisations, regardless of industry or location. Concerned by the endless data detailing the extent of shortages or talent-supply mismatches, I speak to employers every day about bolstering their talent pipeline.
Skills gaps do exist amongst new entrants to the employment market, and companies must be actively implementing comprehensive learning and development programmes to ease the transition. We often hear from Graduates, Apprentices and School Leavers who state that they felt 'lost' during this time and would have benefited from a clearer understanding of the skills needed prior to starting a role.
This is because the knowledge and capabilities we develop throughout our time in early years education are not necessarily those that will bring us success in our careers.
In my experience, entry-level talent often have a long-list of defined 'hard skills'. Our education helps us to develop the competencies needed to perform certain tasks, such as mathematics or foreign languages. While these are extremely valuable, the most prevalent gaps often lie in the development of 'soft skills', such as critical thinking, problem solving and management skills.
Arguably, these skills are more difficult to teach as they don't conform to a standardised 'grading' system. But for those entering the job market, they are far more beneficial. Highly transferable and vital to success in most professions, a focus on soft skills could contribute towards plugging the skills gap.
What can companies do to enable the next generation of workers to thrive in the world of work?
We need to tackle the assumption that entry-level hires will subconsciously know how to navigate an organisation or the skills they will need to succeed. Indeed, research suggests that a disconnect exists between the skills that employers state as essential and those that 'Gen Z' are keen to develop.
The Hays Salary Survey 2021 indicated that the most sought-after soft skills from an employer perspective included communication and interpersonal skills (55%), the ability to adopt change (53%) and problem solving (45%).
In comparison, 'Gen Z' were eager to hone their people management (40%), critical thinking (35%) and judgement and decision making (34%) abilities.
Organisations need to close this gap, creating a clear development plan for entry-level talent that brings together the skills needed for success and the passions of 'Gen Z'. Determining the direction of learning can also help to connect the dots between education and employment much quicker, improving speed-to-productivity.
Organisations also need to consider how they deliver their development plans. Training is often 'front-loaded' to equip new starts with the skills they need to perform their role. However, we are all only human and our ability to absorb information is limited. Additionally, if the information provided is not used regularly, it can be easily forgotten.
In response, organisations should look to embed training across the first few months – and even years – of employment, which can help to forge a culture and mindset of continuous learning and development. It also ensures that the content is provided at a time when it has the most impact.
Of course, skills development is a vital foundation for any successful career. But organisations must also not lose sight of the bigger picture.
Your first job is an enormous milestone in your career journey. The skills you develop in this role will shape future opportunities. However, equally important are the largely immeasurable elements of work, such as connecting with colleagues and feeling a sense of belonging. Organisations who craft a strong company culture are those best placed to enable the next generation of workers to thrive.
What role does Hays play in developing the 'next generation'?
It may have become a victim of semantic satiation, but the next generation really are the future. At Hays, we are passionate about developing and supporting those entering the employment market for the first time.
We recognise that the transition from education to employment is a pivotal moment, so we actively work with our clients to ensure this transition is as smooth as possible, from the perspective of both the employer and employee.
However, this commitment to development must begin much earlier than the point at which individuals join the workforce. Research conducted by the BBC found that by the age of 7, children are already facing limits on their future aspirations for work. The COVID-19 pandemic has amplified the crisis, with data suggesting that the current cohort of students risk losing $17 trillion in lifetime earnings as a result of school closures and economic shocks.
In response, we are working in partnership with schools and clients to create 'Hays Inspire'. The programme will provide pupils with an informative and realistic insight into possible career pathways, with advice from leading employers regarding the skills needed to succeed in the workforce of tomorrow.
By harnessing the expertise of our Hays Education business and our Early Careers solutions, we are positioned to offer support to the next generation as they try to navigate the world of work, while simultaneously empowering our clients to future-proof their talent pipeline.
How can we all become better life-long learners?
Organisations must create and champion a culture of learning.
I spoke earlier about the need to embed training across the first few years of employment, which plays a vital role in setting the tone for development. If employees understand that continuous learning is a prerequisite for success, they will be more receptive to upskilling and reskilling throughout their career.
Leaders must consider how they can effectively integrate training. Fortunately, the pandemic has forced us all to 'think digital'. A number of providers now offer a fully online experience, including Hays Thrive. Bespoke onboarding and training courses can equip your workforce with the skills needed to adapt to the changing world of work.
Realise your ambitions
International Day of Education shines a much-needed spotlight on the role that learning and development will play in sustainably plugging talent shortages and inspiring the leaders of tomorrow. However, the pandemic has intensified long-standing skills, resource and equity gaps and there is an urgent need for educators and organisations to work together to dismantle these barriers.
For more information on how we can help you to attract, train and support the next generation, contact our expert Early Careers team today.
Other content we thought you'd be interested in