BLOG

null
Latest Everest Ranking Award for Enterprise Solutions at Hays
Latest Everest Ranking Award for Enterprise Solutions at Hays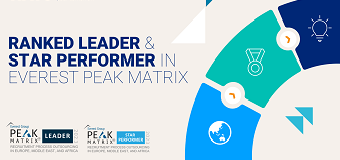 We are delighted to announce our rankings for 2023 in the annual Everest Group PEAK matrix across an array of services.
What is the Everest Group PEAK Matrix?
The Everest Group PEAK matrix assesses the relative market success and overall capability of service providers. All service providers are evaluated against their market impact, value delivered, scope of services offered, vision and capabilities, innovation and investment and their delivery footprint.
Commenting on our rankings, Arkadev Basak, Partner at Everest Group stated:
"Hays has been successful in leveraging its domain expertise across industries and segments to expand its reach in key RPO markets.
Timely investments in talent advisory offerings, expansion of Total Talent Acquisition (TTA) capabilities, and augmentation of its technology solutions have contributed to its market success in 2022 and hence further strengthening its positioning as a Major Contender on Everest Group's Recruitment Process Outsourcing (RPO) Services PEAK Matrix® Assessment 2023 – Global."
Recruitment Process Outsourcing
Hays has received rankings of both 'Leader' and 'Star Performer' for our Recruitment Process Outsourcing offering in both the EMEA regions and Asia Pacific.
Everest Group selects Star Performers based on the relative year-on-year improvement in the PEAK matrix. Our position reflects how we are truly living our brand values, committed to meaningful innovation that enhances our suite of services and continues to add value to our customers.
Our strengths included the expansion of our Talent Advisory services and the range of 'value-added' solutions including Early Careers, Diversity, Equity and Inclusion and Employer Branding. The report also noted our 'well-distributed footprint across regions', with a global network of shared service centres to support RPO delivery.
Vendor Management System
Everest Group compared 22 leading VMS providers, analysing the breadth and depth of product functionalities, innovation and strategic vision against an increasingly competitive landscape for VMS technology providers.
Hays emerged as a 'Major Contender' in the 2023 Matrix. The Everest Group highlighted our ability to cater to buyers of all types, the continued investment made to improve the user experience and the development of functionalities to support the Diversity, Equity and Inclusivity (DE&I) goals of our customers.
Reflecting on our shared success
Nigel Kirkham
, Managing Director of Enterprise Solutions at Hays commented:
"The elevation of our Enterprise business in this years' Everest PEAK matrix to Leader and Star Performer for our RPO business in EMEA and Asia Pacific is a truly excellent achievement. We take great pride in shaping an exemplary service for our clients, always striving to go the extra mile.
Our teams are passionate about what they do, so it's immensely gratifying to see this rewarded. It's great to see our value-added solutions gaining a notable mention, along with our global network of delivery centers.
Our Major Contender status for VMS is a testament to the dedication shown by our teams in the continued innovation and development of our client-facing tech solutions.
We look forward to supporting our clients' success in 2023 – and beyond".
Discover what's possible with Enterprise Solutions
Enterprise Solutions at Hays helps both organisations and individuals succeed as their lifelong partner. Combining deep market knowledge and expertise with a comprehensive suite of workforce and advisory services, we build holistic talent strategies for thousands of complex organisations around the world.