Content_GLO_HTS_BlogTitle
Asset Publisher
ORGANISATIONAL ALIGNMENT: THE SECRET TO ACHIEVING YOUR PURPOSE AND MAXIMISING BUSINESS RESULTS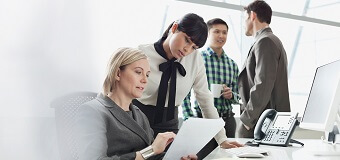 Think of any hugely successful organisation and you'll always find alignment towards a common goal. It gives teams and businesses a major advantage because with a clear sense of what to do and why they are doing it, people can confidently move in the right direction. Free to focus on the real value they bring.
Do your job- a powerful mantra
It's a tired metaphor to bring in sports when talking about high achieving organisations, but few can argue that famed NFL coach, Bill Belichick knows a thing or two about building winning teams.
Whilst his New England Patriots may not have made it to the Super Bowl or even the divisional play-offs this year, 17 divisional titles and six Super Bowl rings are hard to argue with as a winning record.
His famous 'do your job' mantra holds alignment at its core. It means everyone must master their own roles and responsibilities. But, just as importantly they are accountable for understanding how their roles and responsibilities impact and influence the success of everyone else's.
Yet, how many of us take the time to help our teams understand their role as part of the whole in our organisations?
Achieving real alignment
True alignment, where strategy, goals, capabilities, resources and management systems are all arranged to support an organisation's purpose seems too hard to come by. Research highlighted in our CEO Alistair Cox's recent blog, on the importance of purpose, shows just 28% of employees feel fully connected to their company's purpose, with only 39% saying they could clearly see the value they create.
Shocking statistics when you consider organisations that act with a sense of purpose outperform the financial markets by 42%. So how can you achieve organisational alignment and become as successful as one of the all-time most successful coaches in your own team?
Breaking down the language of success for everyone
Like many of you, in our board meetings. we've spent a lot of time discussing how we realise the opportunity our new world of work offers against today's economic backdrop. We discuss our quarterly, annual and three-year strategic plans. How we're tracking and what we need to do to achieve our goals.
But how many of us make sure those weekly team meetings in the wider business follow suit? If most business leaders are honest this is where communications break down. Weekly team meetings tend to focus on reviewing to do lists, fighting the fires and discussing whether we're hitting numbers? Leading to a disconnect for employees between the aspirational language in your purpose and their daily work lives.
Turning vision into strategy into goals: crafting a story everyone can get behind
To tackle this in Hays we took a cascaded storytelling approach. Crafting a compelling, personal story. in which we set out what we were seeking to achieve and how we plan to get there. When writing our story, to ensure it touched on all the core motivators, we were sure to include the impact on our employees, our customers- both clients and candidates, our organisation and our wider industry.
We then cascaded the story through each management layer. As the story moved through each team leader, they became the storyteller, working with their teams to discuss and customise the story, whilst maintaining the central themes, to make it meaningful for them.
Storytelling is just one method of sharing your long-term goals and objectives and asking teams to connect them to their short-term goals and objectives. The key here is being transparent about who you are and where you want to go. It's not enough to just tell your colleagues what they need to do. You need to help them understand the why to enable them to make the right decisions on their own.
Define processes, roles and responsibilities at an individual and team level
Organisational alignment demands cross-functionality. To help your teams recognise that everything done at a team, or individual, level impacts another group and/or individual, dictates as well as a common goal, you also need clear definition of processes, roles and responsibilities.
This will come out in your team meetings as they discuss your vision and strategy, it will soon become clear which priorities resonate more with one team than another. However, you should caution your people leaders not to neglect discussing how the story and their efforts impact other areas and who can help them to get there. If one team doesn't know who to speak to in another, or you don't have defined practices and processes in place, then you end up with multiple calls and meetings when you could have just had one.
Breaking it down into measurable chunks and check on this often
Once you have everyone's responsibilities and vision aligned you need to help your teams break it down into what it means for their day-to-day. One of the areas that is most difficult, is keeping your front-line managers on track, when they are faced with the unrelenting pressure for short-term results. So, if you don't change how you measure them this will never reach all your people.
We empowered our teams to discuss what they needed to change and monitor moving forward. Encouraging them to make the story a reoccurring topic in their meetings and to hold their leaders accountable to it. Discussing how this flows down into their annual plans, quarterly priorities and KPIs.
Communicate your plan effectively and often
Communicate, communicate, communicate. Making sure every person in the entire company knows what the focus is for the next quarter, the next year and longer term will only come through repetition. Think about how many calls, meetings and interactions you have in any given day. Once and from one person is never enough when it comes to communication.
However, this can't just be top down or from the centre. You need to communicate up, down and across your organisation between teams. It also cannot be one way. Communication is as much about listening as it is being heard.
Just like our cascaded storytelling approach, there must always be a feedback loop, or you will never evolve or secure buy-in. By empowering your employees to find their own meaning, connected to your higher vision, you can be sure they'll drive the results you are seeking to achieve.
In summary, strategic alignment is essential to any organisation's success in today's challenging economic environment. Achieving strategic alignment defines your processes, roles and responsibilities to maximise results from your organisation. Successful adoption of strategic alignment begins at the top- but it doesn't end there. Don't just talk about your strategic plan in your board meetings. Concentrate instead on fostering communication, collaboration and bringing your story to life for everyone.
AUTHOR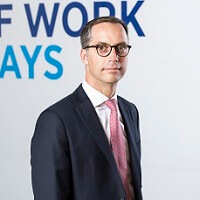 Matthew Dickason
Global Managing Director, Hays Talent Solutions
Matthew is the Global Managing Director for Hays Talent Solutions, having joined Hays in 2005. Previous roles held at Hays include Business Director in the UK and Chief Operating Officer for Asia Pacific. He is now responsible for leading the global business of Hays Talent Solutions and investing to ensure clients retain a competitive advantage in talent acquisition from the delivery of Hays MSP, RPO, technology and modular service solutions.

Prior to joining Hays, Matthew worked within Engineering, Research, Operations and Commercial areas at Johnson Matthey and Corning Inc. He has formal qualifications in Organisational Psychology and Industrial Engineering.