null
Pandemic proofing your workforce strategy; strategic lessons learned from the COVID-19 crisis.
PANDEMIC PROOFING YOUR WORKFORCE STRATEGY; STRATEGIC LEARNS FROM THE COVID-19 CRISIS.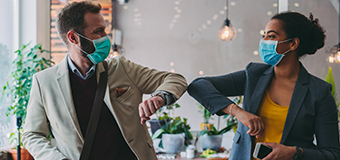 The world of work changed long before the COVID-19 crisis, but it took the economic impact and workforce challenges that the pandemic presented to send shockwaves through every business. Organizations all over the world were forced to adapt and realize what they already knew; if you don't keep up with the ever changing workforce landscape, you will always get left behind, but this has become especially true in times of crisis.
As one of the world's largest MSP providers we're proud to report that we have worked tirelessly with our clients to limit the impact felt by the rapidly changing landscape that COVID-19 brought about; indeed, our clients tell us they feel much more in control than other organizations our stakeholders in both HR and Procurement talk to.
Because of this, we asked a number of our clients and their Hays Talent Solutions Account Leads a series of essential questions so we could share their workforce learns from this unprecedented Pandemic. Their stories are below.
On the day you decided to remove your workforce from your offices, did you know how to account for and track everyone that works for you, who they were, where they were, and what they were doing?
Like all organizations we felt we had a clear line of sight into our own permanent employees, but also required a quick and accurate view into the contingent workforce of over 600 individuals. We needed to know who and where they were, whom they were employed by, and with whom they were engaging to ensure the safety of all our workers as well as the continuity of the business.
With Hays Talent Solutions in control of our MSP, their robust Supplier Enablement teams alongside our VMS and clear data processes allowed us to report on our active contractor population in real time. With proper set-up and continuous assurance that the process is followed, we provided reports to the Business in real time on their active contractors.
Because of the service assurance that our MSP team delivers, we were able to accurately and efficiently identify the active contractors, the suppliers that deployed them, and for which projects and departments they were working. This meant we had fast, accurate communications to all of our workers on how we planned to change our working practices and stay safe as well as productive.
How did you quickly and efficiently communicate key messages with your contractors and suppliers?
We currently manage only half of our contingent workforce through a Hays Talent Solutions run MSP. The other half are made up of service provider SOW workers in which we don't log their time and can't as easily track who is ultimately working for us and where.
We built out a communication plan to share updates and transition plans with suppliers and contractors through the MSP. We were confident every worker there was informed as to developments. This was contrasted by the other half of the workers who were not managed by our MSP. These workers latterly told us they felt lost and uninformed and we struggled to communicate with them given our limited visibility over where they were, who they were, what they were doing and who deployed them. This meant our business in turn, felt less informed and in control – something everyone needed to avoid. This has ultimately forced us to review moving forward how we can benefit from wider MSP ownership of our supply chain as well as better use of VMS technology so we don't have similar problems in the future.
Were you able to easily transition your contract staff working in your buildings, to working remotely?
Largely, yes. As a global a financial services company with offices nationwide and beyond, we needed to move quickly to make the transition to remote working – and this included a number of large customer service contract center sites.
As part of a joint project, Hays Talent Solutions teamed up with our Business managers and Group IT in identifying, assessing, retraining and then - migrating those temporary workers who were to be moved off site.
We were able to use reports from the Vendor Management System to identify the live worker population and the staffing suppliers that introduced and pay-rolled them. Contact information captured by Hays at the beginning of each assignment made communications easy and was updated in real time for future updates. This also allowed us to provide the right hardware to these workers to enable them to be as effective outside the office as they were within it.
We felt comfortable we had full visibility of our Contractor workers, where they were, and what they were doing. As a result of the joint project, over 500 of these workers were transferred to remote working within a four-week period.
Were you successfully able to on and off-board contractors and employees virtually?
With Hays Talent Solutions' help, we transitioned over 600 contract workers within a week to remote work due to the COVID-19 pandemic.
We jointly worked with hiring managers, suppliers, and candidates on best practices around virtual hiring. We leveraged a comprehensive summary of on-boarding instructions that was shared with the supply chain and hiring managers to ensure a smooth hiring experience for the workers, while maintaining MSP program compliance.
In the eight weeks we were in lockdown, we were able to efficiently on-board and off-boarded 293 contract workers virtually, allowing our business and manufacturing sites – delivering essential PPE products – to maintain "business as usual" during an unprecedented time.
Were you able to sustain hire and engage workers for business continuity throughout the pandemic?
We are the MSP provider for a household name manufacturing company that produces, amongst a wide variety of other lines, healthcare products vital to protect healthcare professionals in their fight against COVID-19 and were therefore designated as "critical" sites during the pandemic. This meant that every effort was to be made to enable them to remain operational, while remaining as safe as practical for workers.
We formed a joint project team to agree and deploy proactive actions to ensure business continuity. These actions included the formation of a weekly joint project team, tighter forecasting future demand, planning capability, the design of an additional Rapid Deployment plan and much more
To ensure we retained the commitment from our suppliers as a priority client we increased the frequency and scope of communications including:
Engaged with Senior Level sponsors from each supplier at each location
Provided transparency through weekly tri-party calls between our team, the supplier and plant leadership (HR Manager and Plant Manager)
Ensured visibility though weekly tracking updates to enable suppliers to understand the candidates in process at a granular level
During the eight-week "lockdown" period we increased the number of available, screened and willing workers across the three sites by a significant 66 percent when compared to the same time in the previous year.
Did you provide your workers additional well-being training and support?
We engage tens of thousands of project-based and contract workers annually. While our people have always been core to our business, and obviously the most valuable part of the Hays Talent Solutions, it became clear that we needed an innovative strategy to support their mental well-being during COVID-19.
We partnered with a global Learning Management System to develop a program that we could deploy to all our contractors as well as our own employees around the world. In the LMS platform, Hays Thrive, we developed courses that focused on the physical and mental well-being of our employees. Through this we successfully engaged over 500 contract workers in North America, and thousands globally, providing them with online and interactive courses to ensure their physical and mental well-being. This resulted in a more engaged, productive and healthier workforce throughout lockdown.
Conclusion
The world has known for some time that an effective Managed Service Provider paired with a well-managed contractor workforce is now considered instrumental for organizations to thrive. In this new post-pandemic era, we have seen real, tangible benefits of the sort that you would expect to be taken for granted – "who is my workforce, where are they, and what are they doing" are questions every CPO and CHRO should have instant answers to.... but clearly for a lot of organizations this hasn't been as true as it should be. The recent shift in workforce trends as a result of the pandemic has further strengthened the case for an adaptable and innovative MSP partner to succeed during these testing times.
As everything begins to settle down, we're finding ourselves asking, will the fall out of the pandemic call for a change in the way work gets done? Will the world of work change permanently? Regardless of the answer, one thing is certain. A solid, withstanding MSP partner is a necessity in this ever-changing world of work.
AUTHOR
David Spence
SVP of Service Delivery, Hays Talent Solutions
A highly experienced Practitioner in both HR and Procurement, David has worked for approaching 25 years on both sides of the Staffing Outsourcing market. Initially with one of Hays' direct competitors in global client relationship and Services Procurement roles managing large scale, multi-regional recruiting outsourcing engagements for a dozen years, David then moved in-house - firstly with Credit Suisse as Director, Talent Acquisition in EMEA and latterly with UBS as Global Head of Recruiting Operations. David recently returned to the outsourcing and services side to undertake his current role as Senior Vice President of Service Delivery for Hays Talent Solutions, with responsibility for all client account relationships across the Americas.
David has lived and worked in Europe, , Asia and the Americas, is an avid Welsh rugby supporter, a frustrated golfer, and Husband and father to three boys.