¿POR QUÉ HAYS TALENT SOLUTIONS?
Ser parte de la consultoría de selección de personal líder en el mercado tiene algunas ventajas importantes. El expertise del mercado que adquirimos de nuestros estudios e informes, así como el conocimiento que obtenemos de la colocación de más de un cuarto de millón de personas al año es inigualable. Y lo que es más importante: el conocimiento de las innovaciones que pueden afectar a la gestión de recursos de nuestros clientes y el mundo del trabajo no tiene valor.
Hace poco hemos trabajado con nuestros clientes para desarrollar:
Aplicaciones de recomendación – para que nuestros candidatos y los empleados de los clientes recomienden a un amigo y equipos de talento
Integración de LinkedIn – Hays posee una base de datos de 10 millones de personas que aporta conocimiento y acceso a una gran cantidad de candidatos experimentados
Entrevistas por vídeo – entrevistas online, en directo y grabadas para conseguir una mayor eficacia en los procesos de selección
Ludificación de aplicaciones – para mejorar la experiencia de los candidatos y el éxito de los procesos de selección
Carreras móviles y portales de embarque – apoyando el crecimiento de candidatura digitales
Centros de excelencia de selección de personal global – centros de servicio compartido ubicados en todo el mundo: EE.UU., Reino Unido, Polonia, India, Malasia y Australia, para reducir costes y ofrecer un servicio flexible y escalable.
El hecho de ser parte de FTSE 250 no implica que estemos atados a cualquier proveedor. Únicamente pretendemos asegurar que dispones del mejor talento de la manera más efectiva posible, así que trabajaremos contigo para desarrollar la solución que mejor se adapta a tus necesidades.
Services Procurement resources title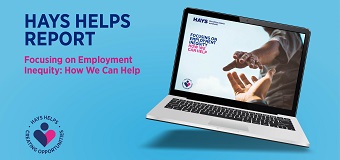 Hays Helps Report - Download your copy
This report 'Focusing on Employment Inequity: How We Can Help' highlights the employability challenges faced by many members of different sectors of society and indicates the areas that can be supported by our Hays Helps actions.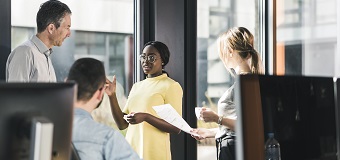 The importance of EVP and the next generation of employees
It is essential companies stand out from the competition when looking to engage new hires. Fail to differentiate yourself and you will not attract the best candidates.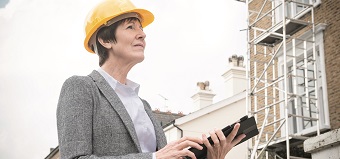 Case study | Manufacturing | RPO


Based on our "Find and Engage" methodology to standardise processes and open channels not previously available.