READ LILIANA'S STORY ABOUT RETURNING TO LIFE AT HAYS AFTER HER FIRST BABY
Agile workplaces respond to their employees' needs with ease and celebrate success together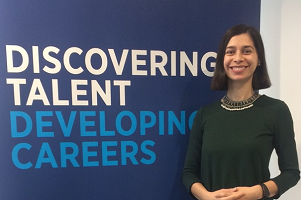 Challenging is not a word that adequately describes the situation we find ourselves in right now due to the way COVID-19 has impacted our lives. Flexibility and adaptability are keywords we find in most of CV's, but perhaps now, more than ever, these skills are meaningful. For Liliana Rusie, a Recruitment Partner at Hays, this has been no exception.
Liliana returned to work from maternity leave at the beginning of February 2020. Full of energy and excited to be back in the office, she got ready to pick up where she left off. From the very first day she had scheduled calls for a project she was going to be part of.
Even though shortly after returning she needed to attend her sick child, she had the support of her colleagues and back home, she developed a strategy with her husband to balance their work and personal schedule. "We were pretty happy with the result, especially since in Hays we have flexible working hours and if needed, I could go to work early in the morning, or a bit later", said Liliana.
The first response to change is important, but the support to navigate the journey is meaningful
COVID-19 turned our world upside down in the middle of March. It did not take long before Hays transitioned to working from home. We had colleagues in the office who worked on desktops. Still, in just one working day, Hays managed to provide a solution, allowing everyone to transition to a new home working environment. "I was pleased to realise that all my systems worked perfectly, I had access to everything, and from a technical perspective, there was no issue whatsoever. I'm sure that for our IT team, the transition was not as smooth as it was for us, but I am grateful that thanks to their support, there were no additional problems connected with this sudden change."
The first day of working from home together with a 1.5-year-old child was a fiasco for Liliana. "Both my husband and I were taking turns in entertaining and keeping our child away from the laptops. I had to start all conversations with the candidates by apologising in advance for the background noise: I am working from home, and my kid is...cheering me up. The candidates were understanding, but the whole situation just increased the stress I was feeling".
We need the right environment to nurture skills like agility and outside the box thinking
Liliana asked other parent colleagues to give her a few tips on dealing with the situation. However, nothing really helped. "We created a new plan: as my husband was about to work with the USA, he would start work at 11 AM. I decided to take advantage of the flexible working hours and start at 8 AM every day. That would give me 3 hours of work and focus when I would try to have as many calls and meetings as possible. From 12 to 2 PM my child would go for her noon nap, which again would give me another 2 hours of focus to write candidate reports, answer emails, update systems and other administrative tasks. Late evenings, after my daughter went to sleep (8 PM) were reserved for active sourcing". Liliana's manager was very supportive of this new working schedule. "At the end of the day, this was not going to impact the quality of my work, and the aim was to keep delivering at a high level. There is no one-size-fits-all approach, and Hays set the right direction for the entire team in this case."
Liliana found a way for both her and her husband to be able to work and take care of their beloved child. "Personally, being in Hays during these unprecedented times has made me feel as there is a safety net for my family and me. I have received support to do my job, understanding in adjusting my schedule. Hays had updated me constantly about the upcoming changes. The way the organisation conducted communication is something I highly appreciate. Firstly, because I didn't feel I was missing out, despite not being a Polish speaker, and secondly because I know what to expect and how to plan. What I've learned so far is that even in difficult situations, there are some opportunities you can take advantage of. I teamed up with my family, not only in achieving personal goals, but also professional ones."