LIFE AT HAYS
Elly Boggis, Global Service Assurance, People and Culture Director shares why you should work for us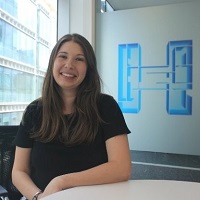 At Hays Talent Solutions, people are at the heart of everything that we do and joining our team will be the start of an incredible journey for you.
You will be part of an ambitious and passionate team of people who are invested in your success and we are here to support you not only in your first few days but as you develop your expertise.
You will receive the best training, coaching and personal development the industry can provide and we actively encourage Global Mobility with career opportunities across the UK&I, Europe, APAC and the Americas at your finger-tips.
I personally have been fortunate in my career at Hays Talent Solutions, to have moved between roles in operations, projects, service assurance and people & culture and from the UK to Australia and back again to the UK, where I am based now, working with all of our regional teams across the Globe to ensure we live up to our Hays values every day.
Start the conversation with our Talent Solutions Careers team
---
Our values

Hays operates a high-performance environment and our internal company culture is fast-paced and constantly evolving. We describe our culture as a meritocracy; a culture that promotes and rewards based on the merit of your personal performance, because you are our greatest asset.
We hire based on potential, we train skill. Potential is displayed through our brand values – These are the attitudes, skills and qualities we look for in our people. The same qualities that make us successful as individuals and as a leading team in the world of work:
Find out what guides our people
---
Our purpose
The world of work is rapidly changing. That's why our comprehensive suite of workforce solutions are all built around our operating philosophy of: