LIFE AT HAYS
Elly Boggis, Global Service Assurance, People and Culture Director shares why you should work for us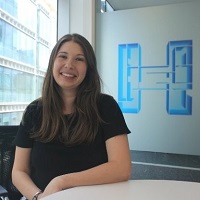 At Hays, we believe in being partners - to our people as well as our customers. Together, we will work for your tomorrow, and the possibilities are endless.
With over 50 years of business success, we have a reputation as the world leader in specialist recruitment and workforce solutions. But joining Hays isn't just about being part of a global business leader, it's about making a difference in the world of work.
With a team of over 12,000, working across 32 countries, we help millions of people achieve their own career goals while providing organisations of all sizes with workforce solutions that set them up for success. You can be a part of this.
You will have the opportunity to learn, with access to leading training, tools, and investment in your development – all creating different career pathways for you to explore and achieve. With Hays you can create the career you want, while changing people's lives.
Let's create tomorrow together.
our values - life at hays
Our values
Hays operates a high-performance environment and our internal company culture is fast-paced and constantly evolving. We describe our culture as a meritocracy; a culture that promotes and rewards based on the merit of your personal performance, because you are our greatest asset.
We hire based on potential, we train skill. Potential is displayed through our brand values – These are the attitudes, skills and qualities we look for in our people. The same qualities that make us successful as individuals and as a leading team in the world of work:
our purpose - life at hays
Our purpose
What we do
We invest in creating lifelong partnerships that empower people and businesses to succeed.
How we do it
What sets us apart is our knowledge through scale, deep understanding and our ability to meaningfully innovate for our customers.
By providing advice, insights and expertise on issues they face today we help them make the right decisions for tomorrow. For our candidates, we're looking ahead for their careers by offering insights, pathways, and support for their ambitions, building our understanding so we can connect them to the right opportunities.
For you, a career at Hays is about helping our customers succeed by placing them at the heart of everything we do.