Sales your hays story title
Jennifer Schneider, Solutions Director, Early Careers for Enterprise Solutions at Hays, shares her #HaysStory with us.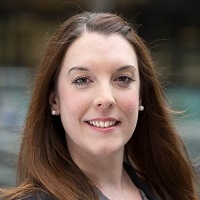 Before joining Hays, I spent most of my career in several in-house HR roles; ranging from Learning and Development, to HR Business Partnering and most recently, running Early Careers - globally for an Investment Bank and for all Business Areas in EMEA. Like a lot of people, I 'fell into' Early Careers, but quickly found a passion for the fast-paced, ever-changing, forward-looking nature of it. It was here where I first became involved with Hays as a client.
At the time, I didn't expect to be working here a few years later! My current role is really varied and no two days are same. Some days I'll be building a solution for a client, the next I'll be recording a webinar on Early Careers trends, or working on content for our Early Careers web pages. I feel really fortunate that I'm in a role which allows me to use my 10+ years of Early Careers experience as a Subject Matter Expert, whilst also challenging me to develop new skills and to work in different ways. To be successful in this role, I need to be innovative, instantly credible with clients, commercially minded and to continuously evolve my Early Careers knowledge.
Having a fantastic Mentor and an MD who encourages me to think outside the box are critical to achieving that. I've been impressed with the support, enthusiasm and energy for the Early Careers Product Line that I've experienced since joining Hays. I've had the privilege of working with people across the globe and in many parts of the business, from Sales to Ops, Project Services, to the ISC - the knowledge, commitment and ambition to deliver a great service has surpassed my expectations. My ultimate goal is to create a best-in-class Early Careers offering for Hays. We're getting there and we've got several big projects in the pipeline – so watch this space!