We offer a range of bespoke Diversity & Inclusion products and services designed to support your organisation's commitments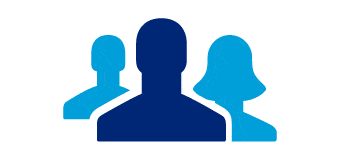 Diversify your talent pool
Our resourcing experts have supported a range of clients from IT companies to banks to realise the benefits of a diverse workforce.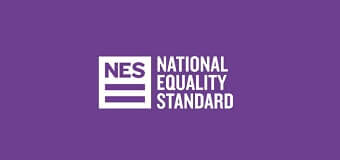 National Equality Standard
Proud to have achieved the NES, one of the UK's most rigorous and prestigious accreditations for equality, diversity and inclusion.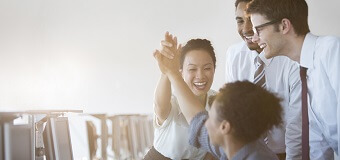 D&I recommendations
An increasingly important and central objective for any talent attraction and selection strategy is the hiring of more diverse talent.
Discover which strategies will have the most positive impact on diversity in your workplace
Discover which strategies will have the most positive impact on diversity in your workplace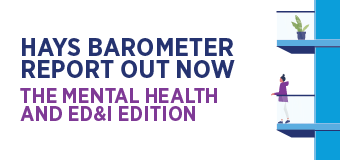 How COVID19 and BLM has shaped our attitudes towards E,D&I
In our new Hays Barometer Report, we present a snapshot of attitudes towards E,D&I and the steps organisations are taking to make improvements to support workplace mental health.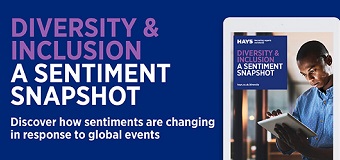 UK Diversity & Inclusion Snapshot 2020
Discover how attitudes towards equality, diversity and inclusion have changed in recent months, and whether organisations are acting on these evolving sentiments.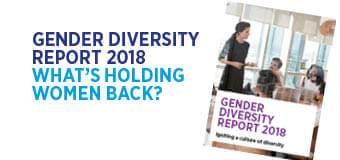 US Gender Diversity Report 2018
Did you know one third of women are dissatisfied with their career level? Get your copy of our report to find out what areas you can invest in, to help more women reach their career goals.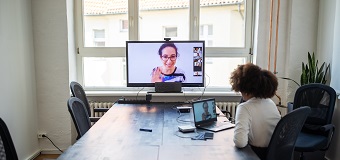 Female workforce participation- all D and no E or I?
As organisations seek to rethink their workforce strategies and approach to talent, how are you supporting E,D&I in your organisation to build an inclusive culture and enable equality?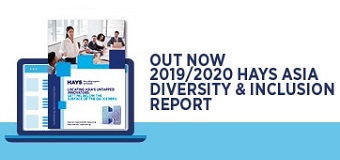 Asia Diversity & Inclusion Report 2019/20
It may appear that working professionals in Asia are gaining more knowledge on the positive impact of D&I in the workplace, but slow implementation of D&I practices has resulted in only marginal progression in the region.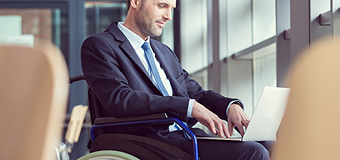 Disability awareness in recruitment guide
The Hays Guide to Disability in the Recruitment Process, offers you useful information about improving all aspects of the recruitment cycle.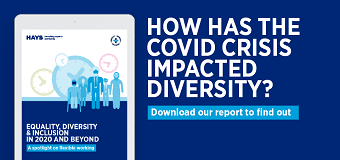 UK Equality, Diversity & Inclusion report 2020
We discover how flexible working can help facilitate equality in the workplace, and the ways in which employers and employees alike believe it has impacted their diversity and inclusion journeys this year.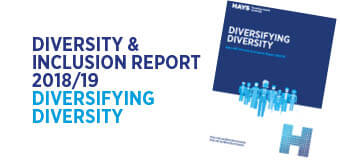 Australia and New Zealand Diversity & Inclusion Report 2018/19
New research has sought to 'diversify diversity' to expose the key diversity and inclusion considerations impacting the careers of underrepresented demographic groups in ANZ.
Organisations we work with
Organisations we work with
Organisations we work with
The Alliance Network
We work very closely with the Alliance network in the midlands as a co-founding organisation to support, engage and improve LGBTi exposure and opportunities within Professional Services organisations.
We support the alliance by organising and hosting key events attended by many midlands based organisations from small SMEs to large corporates around a variety of key LGBT topics producing useful toolkits for members to take back to their organisations and implement.
---
Creating Inclusive Cultures
Founded by Charlotte Sweeney OBE, CIC is a collaboration of companies and employers who are committed to realising and implementing the benefits of diversity and inclusion to truly position their cities as thriving business powerhouses.
Hays Directors sit on the leadership teams across CIC's 3 hubs in Manchester, Leeds and . Areas of focus include improving the visibility and support to BAME professionals, improving organisations' support around mental health within the workplace and the creation of a junior board which has help city leaders interact with the next generation of workers and help identify what is important to them.
---
Leadership Through Sport & Business
Hays is proud to work as recruitment partner to Leadership Through Sport & Business. LTSB is a life-changing social enterprise that gives high potential school leavers from disadvantaged backgrounds access to qualifications and careers in accounting, business, and finance.
We host 'speed interview' events run by LTSB to which we invite our clients, allowing them to understand more about the work LTSB does and access the cohorts of young people the organisation supports.
---
Teen Turn
Teen-Turn provides teenage girls with the opportunity to spend two weeks during the summer in a technology career environment through work placements with companies based in Ireland. Hays supports Teen-Turn by engaging with prospective organisations to participate in the programme.
The aim of these 'Teen-Turnships' is to enable more girls to explore and gain an interest in technology, which will lead to more women earning technology qualifications – thus meeting a demand for skills that is currently outpacing supply.
Teen-Turn works with schools to identify participants with academic promise who will benefit from the opportunity but are from traditionally disadvantaged communities where third level education is uncommon.
---
Australian Network on Disability
We are proud to be affiliated with the Australian Network on Disability to help organisations implement processes and strategies to promote the recruitment and retention of people with disability.
---
Australian Indigenous Mentoring Experience
AIME gave us the opportunity to mentor their mentors who improve the pathways to further education and employment for indigenous high school kids. 16 Hays directors have participated in the programme so far.
---
Pride in Diversity
We are proud to partner with Pride in Diversity, who are specialists in HR, organisational change and diversity and aim to improve LGBTI workplace inclusion.
---
Aboriginal Employment Strategy
The AES is a 100% Indigenous managed, national, not-for-profit recruitment company. In collborating with a specialist indigenous recruiter, Hays is able to better support our Indigenous candidates' career searches, whilst providing our clients with top indigenous talent.
---
JobAccess
Partnering with JobAccess since 2015 has enabled us to promote the 12 month 'Driving Disability' program for employers and to build stronger candidate pipelines with disability employment service providers.