RPO FOR TECH

Now, more than ever before, companies need to be able to access tech talent. How can you ensure you remain ahead of the competition?

The need to innovate when competing for tech talent is not in itself newsworthy. Over the years, companies have strived to enhance their talent acquisition strategies to better reach professionals in tech.

However, many rely on traditional recruitment methods to engage tech talent, bolting on outbound search in the hope of improving applications. Many are using data to view market statistics on talent availability but failing to keep pace with market dynamics nor demanding insight over data. Moreover, many companies are focusing their attention (and budget) on attraction without considering how an outdated employee value proposition (EVP) or bulky end-to-end process could be turning off those precious applicants.

The reality is that the technology skills market is evolving at such a rate that bolting on enhancements to your existing recruitment strategy will risk you being left behind. At a time when recruitment budgets are challenged and the pressure to secure the skills essential for your firm's survival has increased, companies can no longer afford to risk a bolt on.

That's why we developed RPO for Tech – built from the bottom up with tomorrow's talent in mind. Whether deployed for a project or to run alongside your main TA function, RPO for Tech enables you to instantly shift gear without upheaval or the expense of change.

A purpose-built solution created with technology talent in mind, designed to help you thrive

Our RPO for Tech solution allows you to harness the latest developments in recruitment innovation that come with transferring your permanent recruitment to a leading tech recruiter, ensuring you're able to hire the right tech talent, quickly and effectively:
RPO for Tech bullets with icons
Deep market knowledge

Designed by technology

recruitment specialists who deeply understand how to engage tech professionals who increasingly turn away from traditional engagement channels

Marketing expertise

Access our branding and

content expertise to correctly position your company to target markets

Market intelligence

Real time data and

insights as standard to keep pace with the rapidly changing market

Optimise connections

Tap into the hidden tech talent

market through specialist forums and groups, gaining access to niche skills and an increasingly diverse pool of candidates

Enhanced tech solutions

Our solution is backed by Hays

processes and technology, ensuring hiring processes are more efficient, more engaging and free from unconscious bias

Training support

Gain access to our free

online training portal, Hays Learning, to augment the skillset of your existing staff and hiring managers
Data-driven insights
Informing your hiring decisions
Digital transformation is disrupting industries across the globe and forcing organisations to adapt and hire new skillsets. The pace of change is such that no company yet knows the skills it will need in the future.
Whilst no one can predict the future, RPO for Tech allows you to access real time data insights and the professional advice of market experts to ensure you are prepared and able to make informed hiring decisions.
Attraction campaigns targeted to niche tech talent
Engage your target market in the right way
Many organisations are overlooking key areas of the recruitment process when it comes to hiring digital talent and it's costing them greatly.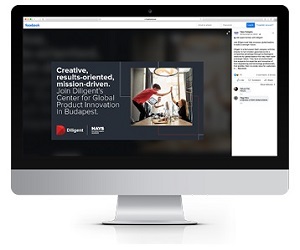 45% of digital professionals are using their own networks to search for jobs and yet less than a third (30%) of employers are investing in tech communities. That's over two thirds of employers ignoring a prime opportunity to engage with nearly half of the talent pool.
As part of our RPO for Tech solution, we look at the finer details to target and engage with tech talent, for example:
EVP and branding advice to ensure your messaging is effective
Marketing automation and social promotion to boost employer brand engagement
Access to specialist professional networks and communities
Video content to drive social engagement
Optimised candidate experience with automated communication via WhatsApp and Mya
Intelligent advertising using programmatics, Pay Per Click and SEO optimised content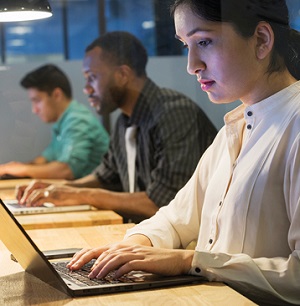 Inclusive hiring built in
It's an expectation, not a nice to have
Building a diverse and inclusive workforce is now a core component of any talent acquisition strategy in order to create a high performing and innovative working environment. Organisations recognise that a hiring strategy that is not inclusive is simply not good enough.
Candidates demand to see this commitment too, with 73% wanting to know whether an employer has a public commitment to ED&I before applying to a job. Therefore, having a process and an environment built with inclusivity in mind is paramount to both attracting and hiring digital talent.
We recognise that diverse hiring in tech can be a challenge, so we have ensured that inclusivity is built into our entire hiring process. This includes an M.I reporting tool so you can accurately monitor the diversity of applications to any given role.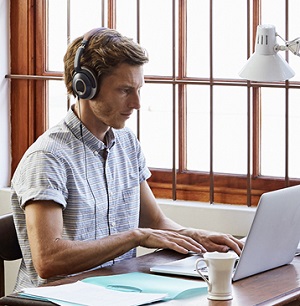 Specialist skills assessment
Speeding up time to offer
Skills within tech are continually changing and evolving, and your hiring process should be too.
Your hiring managers need confidence in their candidates' technical capabilities while candidates need a slick assessment experience.
Our RPO for Tech solution is supported by bespoke tech skills assessments to ensure that you have confidence in the skill capability of your shortlisted candidates without compromising an efficient process.


Employer-branded tech-specific career site
Tailoring your brand to the market
The tech talent you want to hire are digital natives, which means your career site needs to be engaging with a great user experience to help encourage applications. However, although 41% of employers know their career website provides applicants with a neutral to very poor experience, more than half are not doing anything to improve this in the coming year.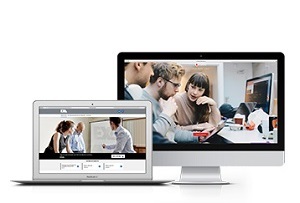 As part of our RPO for Tech solution, we will build a fully branded, digitally optimised career site to showcase your brand, bring your roles to life and offer candidates an easy-to-use application process. Site content is optimised for search engines (SEO) to improve the awareness of your career site to diverse sets of tech talent.
Key features of our career sites include:
Integrated with Google analytics to enable continual optimisation of your site
Provides access to a real-time chat to answer candidate queries
Uses engaging video content to bring to life what it's like to work for your organisation
Fully optimised for different mobile, tablet and desktop platforms
Simple to navigate and easy to register interest or apply for a role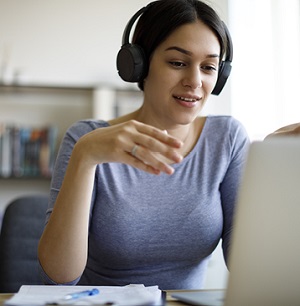 Market-leading CRM and processes
Optimised candidate experience
Today's candidates expect job application processes to be seamless with a good user experience. This starts with strong back-end systems and processes in place.
Our RPO for Tech solution uses our market-leading CRM system and best in class processes. Our quick to deploy platform is based around a tailored blueprint and includes integrated options for:
Job distribution
Social engagement
Job posting and applications
Video interviews
Online assessments
Onboarding

Our technology assures your GDPR compliance and enables a seamless hiring process that is optimised for a tech audience.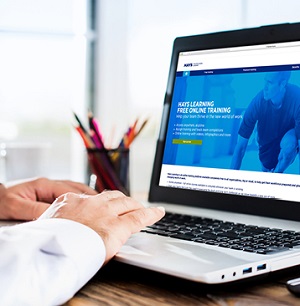 Free online learning
Help your workforce thrive
Continual learning and upskilling are important elements for organisations to offer their workforce to ensure they are ahead of the competition and always market ready.
As part of our RPO for Tech solution, you will receive access to our free online training portal, Hays Learning:
Access anywhere – Hays online learning is available to complete wherever your team is working
Our Learning Management System helps you assign training, track completions and create your own training programmes
Training includes videos, quizzes and assessments, and is regularly updated for relevance
A number of core courses are included free of charge
Build-your-own training packages with our premium service choosing from our library of over 100,000 training options