BLOG

null
CWS Europe 2023: Stepping into the future
CWS Europe 2023: Stepping into the future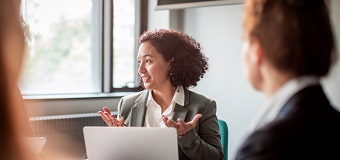 The CWS Summit Europe is back – and this year, it's with a bang. Global Head of Client Development, Ruth Munday, reflects on an exciting agenda ahead of our attendance at the event.
Like many others in the staffing industry in Europe, I felt there was a real buzz at Staffing Industry Analysts' (SIA) European summit last year. But the buzz was mainly due to the euphoria of finally being able to meet in person after two years. At the same time, the content felt quite (sorry SIA) 'same-y'. I and many other attendees came away wondering if SIA would move the conference content forward?
Well I'm happy to see that SIA have risen to the challenge and have put together a
forward-thinking agenda
that reflects the most relevant topics for workforce management today.
A new theme, a new focus
This year's theme is Driving Growth and Change in Uncertain Times and has a much more progressive focus than previous events. The agenda is one that should hold equal interest to both procurement and HR and recognises the link between a balanced workforce and a resilient, future-proof organisation.
Below, I highlight some of the reasons I think SIA have hit the mark this year. Over the next few weeks and with the support of my colleagues, I'll delve a little deeper into each of these.
1: They recognise the link between a balanced workforce and the success of your business.
Hays first explored the topic of future-proofing your programme in our 2020 whitepaper (link here). CWS 2023 takes this to the next level, addressing the need for balanced workforces and exploring the various themes in building resilience into your workforce management.
2: There is a big focus on future-state workforce management programmes.
Whether it be blending multiple technology platforms, expanding channels or harnessing data and insights, the role of the MSP is set to change. My colleague
Mike McNally
will be hosting a series of round table topics on '
Next Generation MSP Innovations and Changes
' Look out for more from him on this topic over the next few weeks.
3: The focus is on access to skills not just 'temps'.
There is a move away from the focus on 'traditional' worker types to examining the broader options for 'getting work done'. There is a pleasing focus on talent, which has in previous conferences felt like a bit of an afterthought, ensuring the conference is much more relevant to an HR audience.
4: Diversity is front and centre.
More and more companies are recognising that equity and inclusivity in a workforce can only be achieved through a balanced model of differently contracted skills.
However, it also requires policy and cultural change in your business to enable a diverse workforce to thrive. We're seeing the shift in organisations from being largely focused on 'measurement and tracking ' to taking active steps to build equity, inclusivity and belonging into their blended workforce.
My colleague
Dr
Rohan de Rozario
, our Global Head of Advisory, will be joining me at the conference to talk to clients seeking to evolve their approach to Diversity, Equity, Inclusion and Belonging.
Lots to explore – and we can't wait to get started.
If you're interested in finding out more,
please contact me to set up a meeting
, or to access the conference. Well done to Staffing Industry Analysts for setting up what promises to be an exciting event.
Other content we thought you'd be interested in