BLOG

null
On the Radar: Key Trends for the Quarter
Four Trends in the World of Work for 2023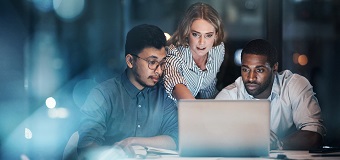 We're active across the world of work, combining meaningful innovation with our global scale and deep market insights to help people and businesses succeed.
To keep you ahead of the curve, we've distilled a huge array of insights, reports and thought leadership across the world of work, enabling your organisation to understand the challenges – and opportunities – ahead.
Below, we explore four key trends that will shape your workforce strategy in the months ahead.
HR Tech (including ChatGPT integrations)
ChatGPT continues to dominate conversations – and the world of work is no exception.
With talent shortages continuing, many companies will be looking for ways to streamline their hiring processes and cut administrative costs wherever possible. Automation enables teams to eliminate the elements of 'busy work', freeing up professionals to work on the more nuanced elements of talent acquisition, including direct human interaction.
Integrating ChatGPT - in addition to other AI-enabled features – as part of an
evolving HR tech stack
will support talent teams in their efforts to fully digitise the hiring process.
Recently, we've seen the conversation moving beyond the use of AI to enhance the search for skills. A growing number of organisations are exploring how a more sophisticated HR tech stack can offer a hyper-personalised experience to each employee, giving them the flexibility to shape an environment that best suits their needs.
The talent shortage continues
Talent shortages have long been acknowledged, and in some industries, continue to worsen.
As well as adding to their headcount, many organisations are exploring how to retain the talent they have already engaged. Competitive pay is expected to remain a powerful strategy for retention, alongside other financial 'perks' such as performance-based bonuses.
There's also a need to widen the scope of the search, with underrepresented or 'hidden' workers offering a huge network of untapped skills. This pool consists of veterans, caregivers, people without traditional degrees and formally incarcerated individuals.
The 'Sciences' faces an acute shortage in skills
Advancements in technology have reshaped the composition of workforces across most industries.
The additional challenge facing Life Sciences and Pharmaceutical organisations, however, is that these companies are having to compete for digital skills not only across their own sector, but across other industries that may seem more attractive to candidates, such as technology and financial services.
Engaging the right talent will not be easy. Popular strategies include:
Attract people with your purpose: In the wake of the coronavirus pandemic and the mass production of life-saving vaccines, many organisations found success in leaning into the personal satisfaction that employees will gain from working within the industry.
Engage emerging talent: Organisations are starting with a smaller talent pool, searching for industry-specific experience or education credentials. Companies may need to start their engagement strategies earlier in the talent pipeline. One way to do this is by partnering with academic institutions to raise awareness and secure the next generation of skills.
Embrace long-term flexible working: Life Sciences and Pharmaceutical industries are often seen as laggards in enabling remote or flexible working arrangements. Faced with evolving candidate expectations around where, when and how work is completed, the industry will need to realign its expectations to engage with top talent.
The future is green
The conversation around green skills continues to gain momentum.
The top green skills include ecosystem management, environmental policy and pollution prevention. However, in order to prevent the worst effects of climate change, all jobs will need to have a strong element of 'green'. Fleet managers, data scientists and healthcare workers are subsequently surging in their green credentials.
Navigating tomorrow, together
Succeeding amid a more complex world of work will require organisations to continually anticipate, monitor and prepare for tomorrow's challenges.
AUTHORS
Rob Moffat, Global Head of Solutions
With a 25-year track record of designing, implementing and managing talent services Robert has a wealth of knowledge on the challenges and opportunities facing employers in maintaining a competitive advantage in talent acquisition, engagement and retention.
As Global Head of Solutions Robert is part of the global leadership team responsible for innovation and product development and as Head of Sales, Solutions and Marketing for the Americas he is responsible for growth of the region. Having lived and worked for Hays in Europe, Asia Pacific and the Americas he is able to bring a diverse range of thought and experience to the new challenges in the world or work.
He has a passion for new ideas, markets and opportunities and has been instrumental in a number of Hays' recent global projects including the roll out of a Global Operating Method, Supplier Engagement Strategy, the evolution of our direct sourcing approach and a quick deploy RPO service for start-up and high growth companies.
Content we think you'd like