null
Direct Sourcing: Leveraging your employer brand to attract and retain talent
DIRECT SOURCING: LEVERAGING YOUR EMPLOYER BRAND TO ATTRACT AND RETAIN TALENT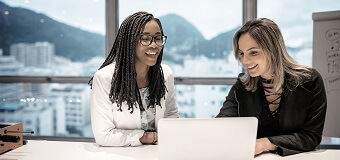 The Talent Forward workforce management strategy continues to challenge the status quo of the market. In an earlier article we introduced this innovative strategy, which is Hays Talent Solutions unique approach to Managed Services Programs (MSP) that deliver the best talent, at the right time and place, for a fair cost – regardless of source or worker classification.
We believe every contingent workforce program can gain tremendous benefit from a more enlightened approach to working with their talent supplier partners, and leveraging the extended supply chain. In today's era of talent scarcity many program stakeholders can gain significant reach into the talent market by leveraging their employer brand to directly recruit contingent workers. This cutting-edge approach is called Direct Sourcing, and it is the third major building block of a Talent Forward MSP service.
With over 20 years of experience, Hays Talent Solutions is an industry pioneer in deploying direct sourcing. This expert recruiting service is revolutionizing how companies find and engage the perfect candidates for temporary and permanent roles. Recent research by Staffing Industry Analysts revealed that one-third of companies are already using direct sourcing as part of their contingent hiring, and another 28 percent expect to add it to their programs in the next two years.
Direct sourcing definition
Before we explore the details of this service, let's first establish a working definition of direct sourcing, as it is often confused with "self-sourcing" in the marketplace.
In contrast to self-sourcing – where a client company does its own recruiting of contingent workers (most often talent that "already knows you" from a variety of sources including employee referrals, company alumni, etc.) – Direct sourcing, sometimes referred to as "RPO for contingent," is an outsourced recruiting and engagement service where an experienced workforce solutions partner, like Hays Talent Solutions, provides a dedicated recruiting team to the client instead of using temporary agencies or other intermediaries to source workers. As its name implies, direct sourcing provides direct access to the contingent labor market, leveraging a client company's brand to build a proprietary private talent pool from which to source from.
How direct sourcing fits within a Talent Forward MSP service
This unique solution provides clients with significant cost savings and time-to-productivity improvements when compared to the traditional staffing supply chain. In EMEA, most of our large contingent labor programs already utilize direct sourcing as a vital component of their workforce strategy. By deploying the recruiting power and global expertise of Hays and then leveraging a client's brand, we can create a unified experience for the candidate, which ultimately attracts top talent and keeps candidates engaged throughout their hiring journey.
The direct sourcing model allows the MSP service provider to better fulfill the client's need for quality talent, at the right time and place, for a fair price. This recruiting models delivers successful outcomes for many categories of workers, and the benefits extend far beyond just filling existing open roles – over time, proprietary talent communities can be built and then cultivated for the organization's long-term recruiting benefit. In North America, most roles are still filled through a traditional staffing supply chain. We believe the adoption of a Talent Forward MSP operating model will help to drive rapid growth for direct sourcing in North America.
The use case for Direct Sourcing
In the new world of work there are many possible alternative sources of talent that can be incorporated into a managed program. At Hays we refer to this as "supply chain re-imagined" and it is a progressive approach to managing the talent supply chain for clients who recognize there are many sources of contingent labor beyond traditional staffing suppliers. This typically includes SOW resources, small services providers, consulting firms, workers who are sourced from online staffing solutions (i.e. FMS marketplaces), and increasingly from direct sourcing channels.
Within an existing managed service provider program, direct sourcing works best for groups or functions that share certain common characteristics. The best direct sourcing opportunities are in areas where hiring volume is high and geographically concentrated, along with consistent job descriptions and candidate requirements.
How it works – a client example
A real-life example of this would be the Hays Talent Solutions partnership with Computacenter. This large provider of IT services, which has over $4 billion in annual revenue, and a global footprint. As the MSP service provider we had been managing all temporary/contract workers, with the exception of a call center consisting of 100 contractors. These workers were sourced by an internal team, with Hays still managing payroll.
After implementing direct sourcing for their Global Service Desk, our team was responsible for all the assessments and initial meetings, then a central coordinator reviewed the recommendations and provided an offer to the right candidates. With this new service, 64 analysts were recruited in the space of four weeks - 11 full-time and 53 contractors. The time to hire was reduced by 11 days, and attrition was reduced by 20 percent from their historical approach.
Conclusion – the benefits of Direct Sourcing
There are many benefits to having direct sourcing as a component of a managed workforce program. Most companies quickly realize significant cost savings from lower markups on labor versus their traditional staffing supply chain. There are also many soft savings, from a shorter time to hire, faster time to productivity, better employer branding, smoother onboarding and more efficient candidate pooling of both contingent and full time candidates.
Every day we speak with prospective clients in the market who are looking for innovation and strategy from their incumbent MSP service providers. Many are dissatisfied with the results they're seeing and looking for something more. Direct sourcing fits the bill, helping to fulfill the promise of a Talent Forward MSP service – delivering the best talent, at the right time and place, for a fair cost.
To make direct sourcing work, you need an experienced MSP partner, a progressive company like Hays Talent Solutions, that strives to optimize the supply chain to do what it does best – provide talent to managers who need to get work done.
NOTE: This article is part of a series which will explore key elements of the Talent Forward MSP strategy, along with key insights and best practices from the workforce management experts at Hays Talent Solutions.
AUTHOR
Kimball Norup
SVP, Global Head of growth at Hays Talent Solutions
With nearly two decades of experience in the human capital management industry. Kimball has experience in structural engineering, publishing entrepreneur, and running a successful strategy consulting firm. He earned a Bachelor of Science degree in Civil Engineering from California Polytechnic State University, San Luis Obispo and an MBA with honours from the University of California, Davis.
Now his expertise is used working cross-functionally with the Hays Talent Solutions global leadership team to build the strategic plan for the expansion of Hays Talent Solutions in the Americas region. Focusing on business growth and client acquisition, activation, retention, and upsell across the region.