BLOG

null
Four common workforce tools to shape a more sustainable strategy
FOUR COMMON WORKFORCE TOOLS TO SHAPE A MORE SUSTAINABLE STRATEGY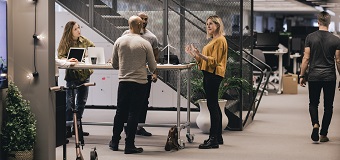 The heat is on.
Organisations are under increasing pressure to prove their sustainability credentials. Learned behaviours will need to be overturned, a profit-above-planet mentality challenged, and drastic cuts made to carbon emissions in order to shape a more sustainable strategy.
In our latest blog, we explore the four common workforce tools that organisations can leverage to shape a more sustainable strategy, balancing the needs of people, planet and profit.
Communicate with your teams
The shift to a more sustainable way of operating will require input across the organisation, meaning every member of staff must be cognizant of and cooperate with the changes your organisation is undertaking.
The everyday tool in your arsenal? Internal Communications.
Having proved their immense value during the COVID-19 pandemic, internal communication channels can solve a common 'bottleneck' to successful, sustainability-focused change. Many organisations struggle to communicate the urgency and underlying motives guiding their work, but a well-crafted, consistent stream of communications can ensure employees feel included – and trusted – to support the transition to a greener organisation.
And with 77% of workers seeking greater transparency from their employer in regard to environmental impact, internal communications could become a vital tool in retaining top talent, appealing to those who are eager to work for a company that prioritises the planet.
Track, Optimise, Reduce
Many organisations have kick-started their transition with a reduction in Scope 1 and 2 emissions (the emissions that are owned or controlled by a company). Hays, for example, has agreed set targets via a Science Based Targets submission of a 50% reduction in our Scope 1 and 2 greenhouse gas emissions by 2025 (versus a base year of 2020).
But organisations rely on an ecosystem of suppliers to get work done better.
The activities of supporting companies must be considered to offer a more holistic measurement of environmental impact. This is particularly important as organisations look to reduce their Scope 3 emissions, defined as the consequence of company activity from sources 'not directly owned or controlled'.
A Vendor Management System enables organisations to track, automate and report across the whole resourcing process. With increased visibility, organisations can review the activity of suppliers and collaborate to ensure best practice. This could include the sourcing of staff based on locality, reducing the impact of long-distance commuting on the planet and empowering members of the local community with access to quality employment opportunities.
And as the contingent workforce market continues to evolve, VMS technology can support you in taking on new, sustainable talent types to help you reach your green goals.
Develop tomorrow's talent
The green transition is predicted to create approximately 200 million roles by 2050, with a report by the National Grid estimating that the UK alone will need over 400,000 new recruits to power the energy sector.
But the need for new skills is not limited to explicitly 'green' jobs. Preserving the planet for future generations will require a global effort, meaning the behaviours and actions across all roles must be shaped by a sustainable agenda. Acquiring new skills is therefore 'an imperative everywhere, and for everyone'.
In the face of a monumental upskilling and reskilling project, organisations can turn to a tool that has become more central, strategic and cross-functional amid an era of massive change: Learning and Development.
Building development paths aligned to business strategies ensures that workers are equipped with the skills – both technical and 'soft' - to empower a transition to greener ways of working.
And while there is an appetite to learn (The Learning Mindset Report, produced in partnership by Hays and Go1, found that 78% of employees are 'happy' to learn new skills during the working day) organisations must bridge the disconnect between expectation and reality. With less than half of workers agreeing that the learning resources provided were suited to their needs, companies must ensure that relevant, valuable content is delivered at high-impact moments to ensure learning is received – and retained.
Non-permanent talent, permanent impact
People will power the green transition.
But relevant skills are in short supply. Data from LinkedIn illustrates that while job postings requiring green skills have increased annually by 8% since 2015, the share of green talent has grown by just 6% in the same period. Although upskilling and reskilling existing employees can develop tomorrow's talent, organisations need to find ways to fill the skills gap today.
The not-so-surprising workforce strategy up your sleeve? Contingent workers.
With the ability to scale teams to match changing market trends, organisations can tap into this non-permanent talent pool to inject creativity, challenge business-as-usual thinking and fill critical capability gaps.
It's a popular trend amongst organisations eager to get ahead of the curve. Data from the Net-Zero Business Barometer indicates that 76% of larger organisations have added at least one person to their sustainability teams since 2020, with most choosing to bring in consultants, rather than expanding their in-house capabilities.
Incorporating non-permanent workers into your talent strategy can also deliver subtle changes to your sustainable agenda.
Many contingent workers, for example, can operate via remote or hybrid working arrangements, removing or reducing the need to travel. With transport accounting for 16% of all greenhouse gas emissions worldwide, cuts to commuter journeys represent a positive step towards a more sustainable society.
Shifting to a more sustainable way of operating will pose a number of complex challenges. Organisations must ensure they are equipped with talent strategies and market insights to bring together multidisciplinary teams, 'utilising the right talent to solve urgent problems'.
Let's talk about your sustainability strategy
The shift to a greener, cleaner and more sustainable way of operating will present a challenge to many organisations.
A considered mix of technology, talent and training must be deployed as part of a wider workforce strategy that puts sustainability at the core of all decisions, actions and objectives.
To discuss how we can support your workforce strategy, speak to the team at Hays today.
Other content we thought you'd be interested in