BLOG

null
Four skills needed for the green transition
FOUR SKILLS NEEDED FOR THE GREEN TRANSITION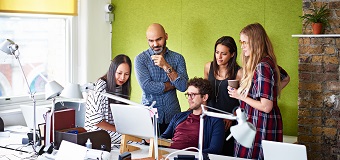 For many organisations, sustainability has earned its place at the top of the agenda. With a 'now or never' warning to limit global heating and halve emissions by 2030, companies are under increasing pressure to reduce the impact of their operations.
This will demand a monumental global effort. Organisations will need to overturn behaviours, realign their strategy to balance profit with the planet and offer reskilling opportunities to thousands of workers.
But the hurdle in so many talent acquisition strategies is identifying the skills that will be necessary to guide the green transition. Like the ongoing digital disruption, sustainability is an ever-evolving concept, with emerging technologies and changing priorities creating opportunities – but also prompting uncertainty.
In response, we've detailed four skills that will be fundamental in building a workforce to power the transition to a greener way of operating.
1. Confidence in communication
The urgency of shifting to a more sustainable way of living and operating is a story that must be communicated credibly, authentically and with passion. Strong presentation skills will therefore be vital to onboard individuals across the organisation and instigate meaningful change.
Top talent will also be required to engage with a wide range of groups. The green transition represents one of the largest – and most pressing – change management projects facing organisations. Building partnerships with colleagues, stakeholders, clients and communities will be necessary to create and implement strategies for a more sustainable future.
2. Committed to collaboration
Siloed thinking represents a 'serious threat' to the green transition.
To ensure that environmental concerns cascade throughout the organisation, top talent will need to champion collaboration, ensuring the responsibility extends beyond Human Resource and Sustainability departments. When sustainability is viewed as a 'whole company' concern, the behaviours, value and decisions made are guided by a 'North Star' of doing what is right – often for profit, but always for the planet.
Organisations can assist individuals as they break down these barriers by fostering a culture of cross-collaboration, diverse thinking and encouraging individuals to always challenge the status quo – and communicating this as part of a holistic Employer Value Proposition (EVP).
3. Agile and adaptable
The green transition is already in motion, with more than 3,000 companies across the globe having set, or in the process of setting, Science Based Target Initiatives that tie them to reducing their emissions.
However, the path to a more sustainable future is still being mapped out. In Europe alone, for example, 45% of emissions abatement will be driven by technologies that have not yet been commercialised.
This innovation will see the emergence of new roles. The International Labour Organisation estimates that 24 million new jobs will be created by 2030 as a result of adopting sustainable practices, including the development of sustainable transportation, renewable energy systems and energy-efficient buildings.
New skills and roles will emerge as fast as others change, in ways that most of us 'cannot imagine'. Organisations will instead need to focus on sourcing talent based on their ability to learn (and then unlearn) new skills at pace, as opposed to making decisions based on the abilities that they have already acquired.
A strong 'Learning Mindset', which encompasses individuals who showcase positive attitude towards upskilling, high levels of aptitude and make themselves available to learning new skills will be necessary to power the green transition.
Companies have a critical role to play in cultivating this mindset, delivering a skills-based Learning and Development programme that is in 'lock-step' with a sustainable business strategy. Tailored training, delivered in an engaging and accessible format, will allow individuals to remain agile and adaptable in the face of changing priorities.
4. Driven by data
A successful green transition will require the implementation and execution of detailed Performance Monitoring, meaning top talent will need to be well versed in data analytics.
Setting out a strategy for more sustainable operations will require the collection of robust and relevant baseline data, which can then be utilised to develop ambitious KPIs that span across the organisation.
And data shouldn't be limited to simply reporting on an organisation's green transition – it can also help to shape it.
Equipped with a real-time overview of operations, individuals can identify areas of the product or service delivery lifecycle with a high-emissions output and optimise to lower the environmental impact.
To support the shift to this proactive approach, organisations must have access to the tools and technologies that enable them to track, monitor and enhance elements across the ecosystem of the supply chain.
Acquiring the skills for a sustainability-led workforce strategy
An understanding of the skills required to power a green transition represents one piece of an increasingly complex puzzle. Sourcing, attracting, managing and retaining this talent will challenge organisations who are already facing chronic skills shortages and fierce competition.
But time is ticking. The talent strategies that organisations shape today will impact their ability to transition to a 'greener' way of operating tomorrow.
Our recent report 'The green transition has started. Is your workforce strategy ready?' offers actionable insights for organisations looking to build a skilled, sustainable workforce.
Access the report here, or if you'd like to discuss how we can support your workforce strategy - with the right skills, delivered at the right time - contact us today.
Other content we thought you'd be interested in