BLOG

null
Is your DE&I strategy setting you up for success? Part 1
IS YOUR DE&I STRATEGY SETTING YOU UP FOR SUCCESS? PART 1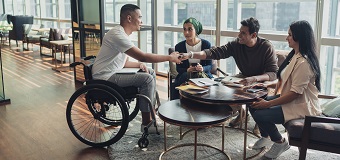 Ensuring the Assessment and Selection process is equitable for diverse candidates.
A greater variety of perspectives facilitates better decision-making, enhanced innovation and a deeper understanding of the pain points faced by customers. With positive impacts on both productivity and profit, many organisations are opting to do things a little differently.
We're partnering with more businesses who are opting to look beyond traditional platforms and sourcing methods, connecting with affinity groups and auditing their marketing materials and job descriptions to ensure they are encouraging applications across a broader spectrum of the population.
Taking the next step
It's a positive – and long overdue – step in the right direction. But the conversation can't stop there.
Even with
'active' diversity and inclusion initiatives in place
, some organisations are still falling short. If you aren't seeing the diversity of your talent networks reflected in your workforce, you may be unintentionally disregarding or deterring candidates during key stages of your selection process.
But in the face of chronic skills shortages, it's more important than ever that organisations are designing and implementing strategies that attract, onboard and develop candidates based on their capabilities and potential, not preconceived notions or inherent bias.
In this blog, we'll examine the importance of enabling inclusive assessment and selection practices, with three key strategies from our experts.
Level your playing field: For many years, organisations have focused on making the process of selection and assessment fair. But how recently have you reviewed your processes to ensure they are equitable?
While you may deploy a standardised set of questions and train your teams to ensure they can identify the impacts of bias or groupthink, many diverse candidates will face barriers before they even engage with your organisation.
Consider the parent returning to the workforce after an extended period of leave, or the promising graduate who attended a low achieving school. Both candidates may be lacking relevant interview experience, leaving them unable to showcase the breadth of their capabilities under controlled conditions.
Consider implementing a coaching programme, made available to applicants prior to the interview process. The intention isn't to give applicants an 'edge' in the race, but rather to ensure that every candidate has a foot on the same starting line.
Wherever possible, get personal: Rather than relying on blind screening CVs to mitigate the impact of bias, consider how you can adapt your processes to enable diverse candidates to showcase their 'best self'.
For example, we've partnered with a number of clients to implement 'assessing for potential'. This method focuses on future capabilities, rather than relying on past experiences. Organisations must consider the capabilities that are critical for Day 1 – and those that can be taught or developed to enable success.
Our trained assessors then deploy behavioural exercises and aptitude testing to identify an applicant's soft skills, motivation and desire to learn. Shifting the focus away from often non-essential entry criteria and instead homing in on potential means candidates are less likely to be excluded on the basis of educational attainment or previous job history, factors which disproportionately impact diverse applicants.
And with the
shelf-life of many technical skills
contracting as technology evolves in shorter cycles, this model of assessment enables organisations to identify people with the ability to
adapt, upskill and thrive
in tomorrow's world of work, rather than simply leaning into the talent that has traditionally dominated certain industries or roles.
While this level of personalisation may not be possible for all organisations, there are small adjustments that can be made to ensure diverse applicants feel comfortable and confident heading into the process. Prioritise flexibility, allowing candidates to select the format (in-person, virtual or at specific times of the day), best suited to their unique circumstances.
Don't settle for the status quo: We partner with a range of organisations across the globe to develop and refine their assessment and selection processes.
A huge array of factors will impact our advice, from the volume of applicants to the complexity or seniority of the role. But regardless of size or scope, we always advise our clients on the importance of collecting high-quality feedback.
Because what works for diverse candidates today, may not be suited to their needs tomorrow. Anonymous surveys, interviews with new-starters or leavers and dedicated consultation groups enables organisations to remain sensitive to the evolving and additional challenges that diverse applicants face.
And while you're requesting responses, don't forget to offer unsuccessful applicants the constructive feedback they deserve. For diverse candidates, these interactions can build confidence and prepare them for future opportunities – and offering a positive candidate experience ensures your organisations stays front of mind.
Enhancing the depth of data available in your organisation can help you make better decisions when it comes to your diversity commitments. Equipped with a detailed understanding of your processes, you can identify areas for improvement, mitigating candidate 'drop-out' rates and ensuring the diversity of your talent networks is reflected within your organisation.
Hard work, high reward
Reviewing and refining the assessment and selection process for diverse candidates must form part of a recruitment process which is equitable from end-to-end.
Katherine Evans, Head of Assessment and Development at Hays (UK&I) adds:
Evolving challenges will require organisations to think differently.
The skills and expertise needed tomorrow may not come from traditional sourcing channels. Opting to assess for potential enables organisations to unlock access to previously untapped or overlooked talent networks.
But before diving in, organisations will need to define what 'high potential' truly means - and then how they'll transform these skills into success. With a clear understanding of what is required from Day 1, businesses can build a selection process that allows people, regardless of background and experience, to showcase their potential.
This will require organisations to confront many established methods for sourcing, selecting, assessing and onboarding diverse talent. But forward-thinking organisations will reap the rewards, leveraging a broader network of talent in the face of skills shortages and

unlocking the innovation and creativity

drawn from a greater variety of perspectives and expertise.
And the hard work can't stop at the doors to your organisation. In the second part of this series, we'll examine how companies must craft a culture that empowers employees to champion diversity.
Ready to elevate your approaches in selection and assessment? A workforce solutions partner can challenge, inform and guide your thinking, offering the insights and expertise to build a better experience for everyone.
Get in touch
for a discussion tailored to the challenges you face.
Other content we thought you'd be interested in