WHAT WE OFFER
We work in a rapidly evolving industry and to help support you in navigating these changes and to enable you to work more efficiently, we invest in your training, development and technology, as well as offer a flexible work environment with the opportunity to work between the office and home. We encourage diversity of thought to create new ideas and innovate our ways of working and our leadership group is committed to helping you develop your skills and career through on-going training, coaching and support, which could include a move to one of our other 33 countries that we operate in.
Training and development
The staffing industry is competitive and demanding. Our success is measured by your success. We want you to excel and if you're a talented person who sets your standards high and wants to contribute towards a winning team; we'll provide you with every opportunity to help you grow into an expert at Hays.
In fact, we'll invest more in your professional development than any other staffing company, supporting you with on-going training throughout your career at Hays, whether you're starting out in your career or an experienced staffing professional.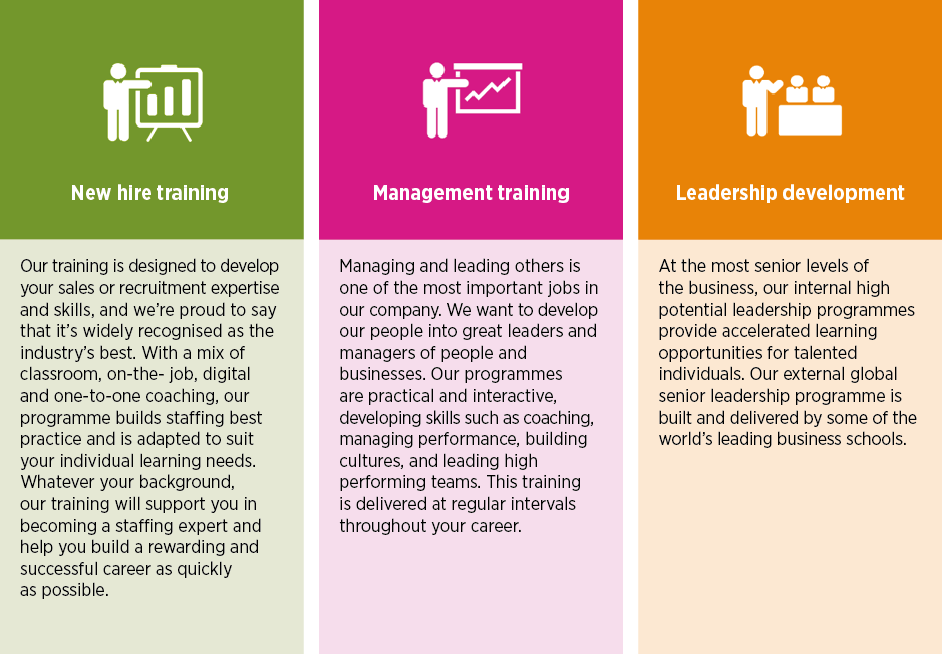 Find out more about working for us
---
Take your career global
We also offer numerous opportunities to expand your career internationally in our network of 250 offices in 33 countries worldwide - from Australia to Malaysia to New York. Many of our team have experienced life and work in several countries over their career at Hays.
Learn about our International Sourcing Centres
---
Benefits
We offer a competitive suite of employer paid benefits which can include a generous holiday entitlement, pension scheme, life assurance, the ability to buy and sell holidays and interest free season ticket loans.
You will also have immediate access to enjoy our flexible benefits scheme on the day you join our team, which provides access to a wide range of products and services including discounted gym membership, travel insurance, as well as tax efficient schemes like cycle to work.
Types of benefits
• Discounts and offers on a range of restaurants, hotels, attractions, retail, leisure and holidays, and healthcare plans

• Access to discounted Hays plc shares via our Sharesave scheme

• An employee referral scheme that rewards people for referring recruiting experts into our business

• 24-hour Employee Assistance Helpline
Discover the role for you