BLOG

null
Mind the gap: Tips for tackling the disconnect in Learning and Development
MIND THE GAP: TIPS FOR TACKLING THE DISCONNECT IN LEARNING AND DEVELOPMENT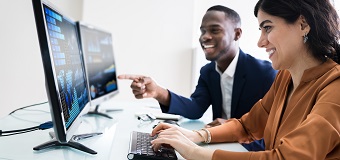 "People want to learn, but they will leave their job if they aren't getting enough support".
In partnership with Go1, a market-leading online learning and engagement platform, Hays recently published the Learning Mindset Report, the result of a global survey that explored how employers and employees perceive and prioritise learning and development.
A learning mindset is defined as a person's orientation to upskilling. Those who show a positive attitude, high levels of aptitude and make themselves available to learning new skills are considered to have a high learning mindset.
But the results of our recent survey show a worrying disconnect between the understanding of, attitudes towards, and application of learning. Employees are eager to acquire new skills, but organisations are 'weighed down' by the challenge.
The result? An unmet appetite for learning, creating concerns over skills shortages and prompting top talent to take matters into their own hands – or move on.
A skills gap will become a company crisis
But the demand and desire to learn new skills has never been more critical to not only organisational success – but survival.
A digital disruption is prompting a change in skills that marks an acceleration 'over the shifts of even recent past'. Evolving business needs are creating an environment in which enhanced digital skills are in high demand. With top talent already in short supply, an overreliance on 'buying in' the skills necessary will see organisations fall short of their ambitions.
A more holistic workforce strategy that looks to leverage internal talent will be necessary, but current statistics paint a concerning picture. Research indicates that one in six people in the UK have 'low or no digital skills'. A similar scenario plays out across the globe, with estimates that US and European economies have unlocked just 18% and 12% of their digital potential respectively.
Many organisations are also turning to Learning and Development (L&D) to create a competitive advantage. A culture of continuous development has increasingly become a cornerstone of many Employee Value Propositions, assisting organisations as they source emerging talent.
But L&D isn't limited to the attraction and sourcing of candidates. 76% of employees are 'more likely' to stay with a company that offers continuous training. Put simply, those who can 'grow and retain employees with the right skills, and the ability to learn new skills' will outperform their closest competitors.
The worrying gap between expectation and reality is one that organisations must urgently bridge if they are to create workforces that can learn, unlearn and relearn to leverage changing priorities. Below, our workforce solutions experts offer their top tips.
Four key strategies for closing the gap
1. Align Learning and Development goals with business ambitions.
It may seem obvious that the training of teams should align with the objectives of the organisation. Yet research has found that many L&D functions 'fall short', with just 40% of executives agreeing that their learning strategy is aligned.
In the wake of the pandemic and facing a widespread 'reshuffle', L&D has become a more strategic function. As organisations regroup and realign, those companies that take the time to build a skills-based programme that is in 'lock-step' with their business strategy will reap the rewards.
Individuals are more likely to view training as relevant and necessary if they can link the time spent learning to the ambitions of the organisation.
Embedding L&D into the fabric of an organisation can also enhance the creativity of teams. Equipping workers with the tools – and mindset – to challenge the status quo encourages employees to consider alternative or innovative ways to 'delight customers and beat the competition'.
And a culture of continuous development can form part of a holistic retention strategy. Investing in the training of teams sends a clear signal that an organisation is committed to the growth of its employees, helping them to build valuable skills that will encourage workers to 'make moves' within an organisation and remain energised, engaged and emboldened by a drive to succeed.
2. Pay close attention to the numbers.
The Learning Mindset Report demonstrated a disconnect in business impact that could be linked to L&D. While 81% of workers surveyed stated that they demonstrate their development on a regular basis, only 60% of employers agreed.
'You can't improve what you don't measure' - executives and leaders need to set actionable metrics that track the contribution of L&D in reaching business objectives, leveraging the huge volume of sales data readily available in most modern CRMs.
Some organisations are choosing to take this one step further, linking Key Performance Indicators (KPIs) to performance bonuses and including development discussions as part of quarterly or annual reviews.
For those companies eager to promote ongoing education amongst their workforce, offering financial incentives sends a clear signal to staff , encouraging them to prioritise their personal development in the same way they would set aside time to meet the objectives of the organisation.
3. Turn to technology.
'Employers and employees are aligned on the best ways to learn', according to the results of the Learning Mindset Report.
Employees are more receptive to learning that is structured, closely followed by tutor-led online seminars. Mentoring was widely recognised as a 'highly effective' yet underutilised tool to facilitate development.
Many organisations are turning to technology to meet employee expectations, drawing on a range of existing and emerging tools to create a culture of engaging, tailored and evolving education.
Chatbots, for example, can send timely prompts to remind individuals of outstanding work, request feedback on recent sessions or reinforce learning with a series of quickfire questions. Virtual spaces, such as Zoom or Microsoft Teams, can foster mentoring programmes across borders, enabling employees to connect across the organisation.
And although it may still be 'taking shape', the Metaverse could offer a much-needed solution to the perceived shortage of supplies that facilitate development. A quarter of employees surveyed were 'not satisfied' with the learning resources made available by their employer.
Within this immersive universe, organisations can create 'realistic but safe' spaces to take measured risks and share key learns, within the safety of a simulated environment.
While the tech stack deployed may differ, the agility created by leaning into virtual resources will be essential to a workforce required to upskill and reskill at pace.
As the shelf-life of skills shortens and we undergo periods of rapid digital transformation, technology will become an essential enabler, allowing organisations to 'plug and unplug' into specific, individualised training programmes with a set of skills, pre-determined by the organisation, to be acquired.
Thrive, an online learning platform offered by Hays, enables organisations to build tailored training packages for their teams that are relevant, well-designed and available on-demand.
4. Train for today, plan for tomorrow.
Many organisations are offering training that meets the needs of today. But successful skills programmes will need to have an understanding of the competencies and capabilities that will be vital in 12 months, 5 years – and by the close of the decade.
Creating this future-focused mindset will require deep-market knowledge, global insights and timely analysis of key indicators such as salary expectations to guide decision-making. Those companies that commit to a data-driven approach can ensure that both talent acquisition and development pipelines are set up to ensure that the right talent is in the right place, at the right time.
In addition to recognising the strengths in skillsets and identifying opportunities in the market, an understanding of the skills needed to power progress can support organisations as they look to develop their Early Careers strategy.
With reports indicating that by 2030, 825 million children will not have acquired basic secondary-levels skills – a measure of workplace readiness – companies are looking to bridge the gap and ensure that tomorrow's talent are equipped with both the technical and soft skills necessary to transition from education to employment.
Let's talk about your Learning and Development strategy
Building a culture that is committed to continuous learning and development will challenge many organisations. But those that choose to invest in training will be able to offer their people an unparalleled 'richness in opportunity', reciprocated with stronger retention rates, a more innovative working environment and a passion for doing the right thing – for customers, colleagues and stakeholders.
For more information on our advisory services and how this can support your workforce strategy, speak to one of the Enterprise Solutions team today.
Other content we thought you'd be interested in