The green transition has started title
THE GREEN TRANSITION HAS STARTED. IS YOUR WORKFORCE STRATEGY READY?


DOWNLOAD OUR REPORT

Unlock our three step strategy and develop the culture, skills and vision necessary for the green transition. Download your free guide and enhance your sustainable workforce strategy.
Why you need a workforce strategy ready for the Green Transition.
Time is running out
We have entered a crucial decade for the planet.
To avoid the impacts of climate change becoming irreversible, a global effort to keep global heating to 1.5 degrees is urgently required.
While the volume of green talent is steadily rising, we are a long way from having the sufficient skills in place to deliver a more sustainable – and safe – future.
How Hays can help
A three-step strategy for success
To support organisations in the search for critical skills, we've combined the deep market knowledge and global expertise of our teams.
The result?
A succinct exploration of how people strategies can power an organisation's green transition, with actionable insights for developing the culture, skills and vision to shift towards more sustainable operations.
Our latest report, at a glance
Step 1: Crafting a Sustainable Culture
Meaningful change will require a cultural overhaul, breaking long-established habits that have prioritised profit over the impact on the planet.
Key stakeholders within the business must set the tone, leveraging financial incentives and KPIs to drive change from within. Progressive organisations will also recognise the privilege attached to their position and will use this to enact change for the better, extending the opportunity beyond the office walls.
Step 2: Building a skilled, sustainable workforce
The scale of our sustainability challenge demands that all roles must have at least an element of 'green'. But organisations are building or refining their workforce strategy at a time when we are heading towards a global skills crisis.
An overreliance on buying in the expertise required will see organisations fall short of their sustainable goals. Instead, companies must consider how they can cut through the noise to facilitate learning and development, identify skills adjacencies and upskill workers at pace and dramatically increase the diversity within their talent function.
Step 3: Developing strategic, sustainable operations
While 90% of executives think sustainability is important, just 60% have a sustainability strategy in place.
Instigating the shift from intention to action can be tricky. But those who make a clear and sustained commitment to doing the right thing are set to unlock immense opportunity, for both profit and planet. With the culture and expertise in place, organisations can reimagine production and consumption patterns, dive into their data and invest in technologies that will power more sustainable processes.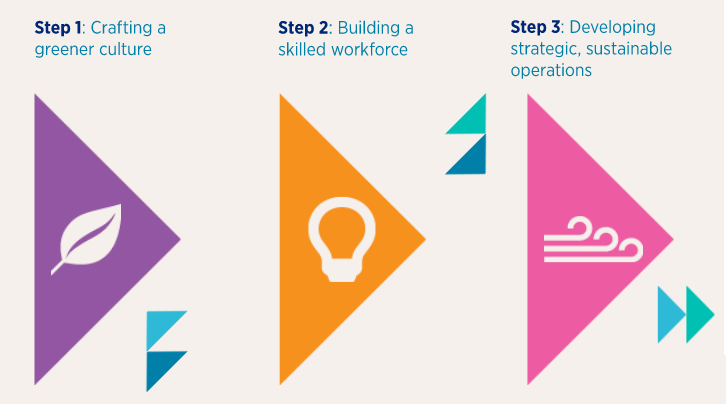 The tools you need to power your ambition
Already facing a chronic talent shortage, these changes will challenge organisations of all sizes, operating across every single industry.
Contact the team at Enterprise Solutions today.
title green transition report
4 skills needed for the green transition. Access our infographic below
Additional content - green transition report
Popular content related to building a workforce to power the transition to a greener way of operating.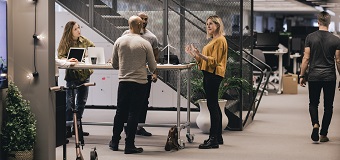 Four common workforce tools to shape a more sustainable strategy
In our latest blog, we explore the four common workforce tools that organisations can leverage to shape a more sustainable strategy, balancing the needs of people, planet and profit.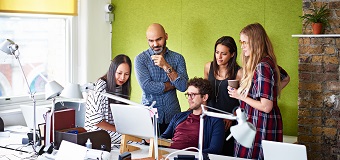 Four skills needed for the green transition
For many organisations, sustainability has earned its place at the top of the agenda. We've detailed four skills that will be fundamental in building a workforce to power the transition to a greener way of operating.