RECRUITMENT PROCESS OUTSOURCING (RPO) VEELGESTELDE VRAGEN
Heeft u vragen over recruitment process outsourcing? Lees hier alle veelgestelde vragen over RPO.
Wat is Recruitment Process Outsourcing (RPO)?
Recruitment Process Outsourcing (RPO) is een onderdeel van Outsourced Recruitment. Met een RPO-programma worden uw recruitmentactiviteiten, of een selectie hiervan, uitbesteed. Ook is het mogelijk om de gehele recruitmentafdeling uit te besteden naar een externe partij, zoals HAYS.
Wat zijn de voordelen van het outsourcen van recruitment?
Het outsourcen van uw recruitment biedt legio voordelen voor u en uw organisatie. De belangrijkste voordelen zijn; schaalbaarheid, flexibiliteit, kostenbesparing, verbeterende toegang tot specifieke kandidaten/doelgroep en het verhogen van Employer Branding. In het artikel Recruitment Outsourcing – De Voordelen wordt dieper ingegaan op de voordelen die Recruitment Outsourcing u en uw organisatie bieden.
Kan ik ook een gedeelte van mijn recruitment proces outsourcen?
Ja, het is ook mogelijk om een gedeelte van uw recruitmentproces te outsourcen. Onze aanpak is modulair opgebouwd, wat betekent dat men ook alleen individuele onderdelen van het proces kan outsourcen naar HAYS, bijvoorbeeld 'Sourcing' en 'Screening'.
Welke typen Outsourced Recruitment oplossingen worden in de markt gehanteerd?
De volgende vier verschillende typen oplossingen worden voor Outsourced Recruitment gehanteerd:
Interim recruiter of RaaS (Recruitment as a Service): U beschikt direct over extra capaciteit voor uw recruitmentafdeling door het plaatsen van een interim (RPO) recruiter binnen uw bestaande recruitmentteam.
Project RPO: Voor een specifieke recruitmentopdracht wordt gebruik gemaakt van outsourcing. U kunt hierbij denken aan een vaste functiegroep met vaste tijdlijnen, resultaten, en een duidelijke kop en staart.
Hybride RPO: Het gebruik van outsourcing voor een specifiek onderdeel van uw recruitmentproces door een RPO specialist, bijvoorbeeld voor sourcing, screening of onboard activiteiten.
Full Service RPO: Hierbij is sprake van volledige recruitment outsourcing. U kunt hierbij denken aan activiteiten die betrekking hebben op planning tot aan onboarding en offboarding naar een RPO partij.

Zit bij een RPO-programma altijd een recruiter onsite (recruiter op locatie)?
Nee, afhankelijk van de oplossing en de behoefte kan een RPO zowel onsite als offsite worden ingericht. Ook is een hybride oplossing mogelijk, waarbij gebruik wordt gemaakt van outsourcing voor alleen een specifiek onderdeel van het recruitment proces binnen uw organisatie naar een RPO specialist.
Werken jullie met een eigen ATS/CRM systeem?
We werken zowel met ons eigen ATS/CRM systeem OneTouch en partner Talentlink van Lumesse alsook met op maat geselecteerde ATS/CRM systemen, afhankelijk van uw behoefte en oplossing.
Objectives
What are the primary outputs you're looking for from the service? What is the problem you are seeking to resolve?



Geography
How strategically important is the location? Is there sufficient sustained volume of hiring to justify outsourcing? Wil the hiring managers use the service enough?


Types of resources
RPOs can be set up in a way that can support most of your permanent hiring, but sometimes it makes sense to maintain a different delivery model, so its worth considering the different options.
Process
Consider what infrastructure you have in place already and what is the primary driver behind exploring outsourcing.



Delivery model
You must consider the type of role/resource you are recruiting/managing against two criterias; criticality and regularity to help with deciding which delivery model is right for you. You will also want to consider whether you prefer your RPO team onsite or offsite, local, offshore or hybrid.
Technology
This is essential to provide visibility and control of the process which will help scope future decisions. Consider the scope of the project, do you need the same solution globally? Do you want one provider for all to deliver cost and process efficiencies? Who will buy the technology?
Pricing structure
Ensure this is aligned to your most important objective.







How much does an RPO cost?
Unfortunately, there is no easy answer to this question. It depends on the size and scale of the programme and the model used to best meet your objectives. Typically, they'll be able to provide savings compared to your current talent acquisition spend thanks to the efficiencies they are able to derive from expertise and volume developed over years of experience.
There are three main ways an RPO is priced, a fixed fee paid periodically, a transactional fee for each hire or performance based. For example, linked to cost savings or key pre-agreed KPIs.
However, if you contact an RPO provider, they should be able to provide you with an indication based on your answers to some initial questions.
Can you integrate with our ATS?
We've worked with a number of applicant tracking systems over the years, and so we're experienced at optimising and delivering RPO services across a variety of different tools and systems. Part of the expertise we offer is supporting you in the development and management of your recruitment technology to make the sourcing, processing and management of your employees easy.  
I only need seasonal or temporary recruiting assistance, will an RPO work for me?
One of the many benefits of RPO is the flexibility it provides you, as you have no headcount commitments. Also, we've developed a solution, RPO Essentials, which allows businesses of all sizes to enjoy the expertise and benefits of Recruitment Process Outsourcing (RPO) without the typical time or resource requirements, which is suitable for short-term requirements.
What does the typical RPO procurement process look like?
Like any business process outsourcing decision RPO buying processes can take time. Smaller project based RPO options can be much quicker, but large-scale end to end RPO solution procurement processes can take up to 12 months due to the increasing complex nature as organisations seek to take more multi-country deals into consideration.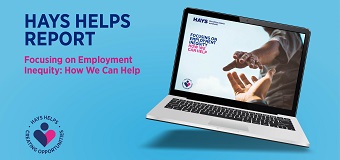 Hays Helps Report - Download your copy
This report 'Focusing on Employment Inequity: How We Can Help' highlights the employability challenges faced by many members of different sectors of society and indicates the areas that can be supported by our Hays Helps actions.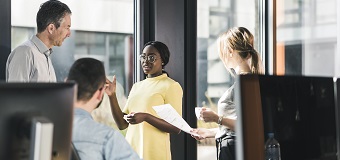 The importance of EVP and the next generation of employees
It is essential companies stand out from the competition when looking to engage new hires. Fail to differentiate yourself and you will not attract the best candidates.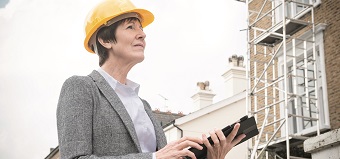 Case study | Manufacturing | RPO


Based on our "Find and Engage" methodology to standardise processes and open channels not previously available.